Branded bottles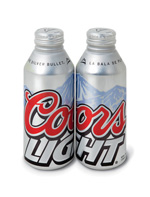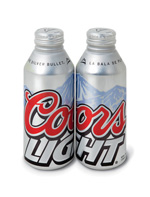 Demand for aluminium bottles is increasing in the US. CanTech International editorial board member James Peterson, who works for Ball Corporation, discusses the reasons why
The sustainability and brand-building benefits of metal packaging are well known. No other package provides the combination of lightweight, 100 per cent infinite recyclability, durability and 360-degree brand billboard offered by beverage, food and household products cans.
Interestingly, for all the package integrity and long shelf life the can brings to the table, it is the versatility of metal cans that has sometimes been overlooked – but that's changing fast:
• The number of can sizes and shapes continues to increase, meeting the changing needs of brands and consumers who desire everything from 5.5oz portions with low calories to 32oz jumbo cans perfect for quenching a big thirst.
• The growing number of functional innovations is enabling consumers to reclose their cans, scan them to receive additional information about the product inside and glance at symbols made of speciality inks that change colour when a beverage is at the optimal temperature to enjoy.
• And now extruded aluminium bottles, already a popular package ideal for creating shelf differentiation due to their shaping capabilities, are expanding their sustainability profile with a technology breakthrough that allows the use of recycled metal in their manufacture. This in turn enables lightweighting of a package that until now has used virgin aluminium with little or no recycled content.
The increasing popularity of these extruded aluminum bottles for aerosol products and beverages is driven by consumers seeking more choice, particularly in premium personal care products where the products are often viewed as an extension of the individual user. The alluring lines of a shaped extruded bottle appeal to consumers and help define a brand. In other words, versatile metal packaging is becoming a high-end package of choice while also continuing to be an economical, multipack staple.
The growth of extruded aluminium bottles is expanding metal packaging's share of the premium products market. Sleek, one-piece extruded aluminium bottles take package appeal to a whole new level, allowing shaping and offering brands yet another way to position product lines at different price points. Demand for these premium packages, often used for spray sunscreens, hair sprays and other personal care products as well as beer, is growing. From 2009 to 2010, aluminium aerosol volumes increased 13 per cent in the US alone, according to the Consumer Specialty Products Association (CPSA) and we expect to see similar growth when the 2011 volumes are announced later this summer.
That growth is expanding beyond personal care, to household products such as air fresheners and disinfectants. The total number of aluminium aerosol bottles shipped in the US in 2010 topped 793 million units.
At the same time, demand for all types of aluminium bottles used for beverage packaging has more than doubled over the last three years in the US and has surpassed 300 million units annually. Beer has utilised aluminium bottles for several years, and the package is ideal for craft brewers and craft style beers and their
distinctive, personal brands.
Now, the addition of improved sustainability performance offers another opportunity for continued growth. The introduction of recycled metal into the manufacturing process has led to a new metal alloy used to make "slugs," aluminium discs that are later extruded into bottles. The resulting new alloy exhibits increased strength and allows lightweighting of the container without affecting package integrity.
It is the lightweighting that will provide the greater sustainability improvement. Initial estimates are that this technology breakthrough will allow the weight of extruded aluminium packaging to be reduced by as much as 10 per cent initially, with further reductions possible. This will improve the carbon footprint of extruded aluminium packaging and further enhance the environmental
performance of the package.
Shaping is another attractive feature of extruded aluminium packaging. Shapes lend a distinctive look to packages and can strengthen – or even create – brand identity. Whether it is the iconic package shape of a global soft drink brand or the convenient, reclosable metal bottle offering consumers an "aluminium pint" of tasty beer, extruded aluminium cans offer shaping possibilities that help position products as premium in the minds of consumers.
The diameter of aluminium bottles can vary, including very small sizes ideal for medical devices such as inhalers. A sleeker look can also add appeal to certain premium personal care products. And because they use one piece of metal, extruded aluminium cans are virtually seamless. This allows for variations in can graphics and offers a unified "look and feel" to the package.
In terms of packaging history, extruded aluminium bottles are relatively new on the world stage. But their premium appeal and versatility are making them an important package in a successful brand-building strategy.
Related content