Fish canning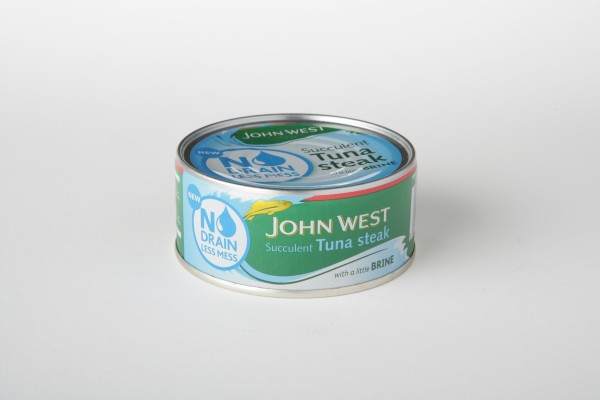 Richard Piper spoke with Jon Walsh, marketing director at John West, about the fish canning industry and the role packaging plays.
Fish canning is big business, that's a fact, and like any big business it must move with the times, adapt to market conditions and, more importantly, listen and react to consumers' wants and needs. This could be a certain variety of fish, the way in which fish is combined with other flavours, and of course the way in which it is packaged.
Jon Walsh is at the heart of this industry and is therefore very well placed to update us on the very latest trends and developments. His first observation is that over the last 10 years, the fish canning industry has 'developed hugely as new concepts and new designs have been taken to market'.
One design is John West's own steam pot range, which combines a can of fish with a separate container of couscous, which is then mixed together. Infusions such as basil and chilli and garlic are also available in its canned tuna range.
Quality appears to be at the core of the company, both in terms of packaging and its contents, which will be welcome news to consumers.
Keeping things sustainable
Sustainability is a key priority for any fish canning business and John West is certainly no exception. As a large supplier of canned fish products they know how important it is to protect our oceans and seas.
"We are committed to sourcing all our fish sustainably and are determined to go beyond the mandatory sustainability, fishing and environmental requirements.
"We are leading the industry in terms of traceability. We were the first UK supplier of canned tuna to offer consumers the opportunity to find out the exact source of their tuna. The online 'Can Tracker' enables all consumers to trace the exact source of every can of tuna back to the ocean and even the boat that made the catch," said Jon.
The company works closely with suppliers, governments, the EU, Regional Fisheries Management Organisations (RFMO's) and NGOs to maintain, improve and update on all environmental aspects of the food supply chain. It has also implemented initiatives to reduce
environmental impacts, including C02, throughout the supply chain.
Ahead of the game
As I mentioned before, it's a big business – and big business means big competition. To stay ahead of competitors is a daily business for a marketing director, and the team must be thinking constantly about where to take the brand next.
"We stay ahead of our competitors by launching new products and new packaging concepts," said Jon. "For instance, last year we launched our infusions range. For this range we undertook extensive research with our consumers to understand their attitudes, behaviours and needs. Resealability was one element that consumers perceived to add value to the concept, and flavour was the other option. We therefore created a can with a ring pull opening and a plastic lid. Once the ring pull lid has been removed the can is resealed with the plastic lid and stored in the fridge."
It is this kind of innovation that keeps them at the forefront of consumers' minds when they are doing their shopping and is proof positive that packaging has a key role to play when it comes to winning out over competitor products. Jon told me that in his opinion attractive packaging is very important.
"It helps to capture the attention of the consumer and helps build the brand. For us, though, the most important element of the product is the quality."
This is good to hear. You can have the most advanced packaging concept on the market, but if the contents are below par then you are unlikely to see repeat purchases. A balance has to be struck and how high you set the bar as a business will almost certainly determine how successful your product will be.

Not just a can of fish
In terms of innovation, for John West the biggest recent development is the aforementioned Steam Pot range. Is it one of the company's most successful moves in the tuna business.
"It is based on our popular Tuna Infusions and transforms it into a range of instantly satisfying hot lunches. John West Steam Pots can be made in minutes by simply adding boiling water. Each one features a combination of Infusions Tuna with couscous to create a fast and filling lunch, that's also warm and flavoursome," said Jon.
"We will continue to listen to our customers and their needs; this is a strategy that has worked well for us in the past. For instance, when our consumers told us they wanted resealable packaging, we launched special concepts for our infusions range. They also told us they didn't want to deal with the mess of draining tuna – hence the launch of our no drain range.
"Over the last few years, more and more tuna products have entered the market at low prices. While we welcome new innovations, we're keen for the industry to remain focused on quality and to avoid commoditising the canned foods market."
Discards: waste not want not
Discards refers to that portion of a fishing boat's catch that either has to be thrown back into the water due to landing quotas or is an unwanted species. The practice sees literally thousands of tonnes of dead fish returned to the sea every year. This is due to end next year due to a policy change brought about by pressure from groups like Hugh's Fish Fight – led by River Cottage's Hugh Fearnley-Whittingstall.
Jon's comment on the matter was as follows: "We acknowledge that discards are a serious issue for the fishing industry, particularly in the UK. Discards in our supply chain are kept very low, and we are committed to eradicating them completely."
However, is it something that has been thought about from every angle? What about the sea birds and other marine life that rely on discards as a food source?
A recent study from the University of Strathclyde found that the banning of discards could have unwanted and previously unforeseen consequences.
In an article published by the BBC, Professor Michael Heath from the University of Strathclyde said: "Wildlife everywhere capitalises on waste from human activity, and discarded fish are food for a wide range of seabirds, marine mammals, seabed animals and other fish. Therefore, banning discards of fish could have unintended effects on the ecosystem."
It has been suggested that fishing methods that avoid catching unwanted species could be a far better solution than a full ban on discards.
Related content