September 2011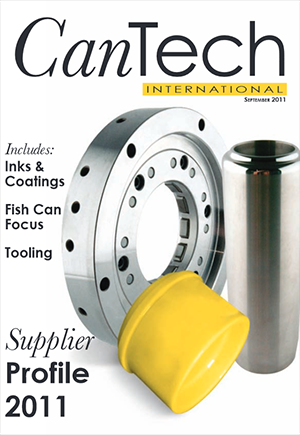 Regulars:
New Products: New cans and ends in the market place
Candid: Bruce Behrens, senior business manager,iMSGroup
Features:
Sustainable seafood: In this update, Ardagh and Crown talk to CanTech International about the fish can market
Economic ovens: CanTech International editor Alec Peachey travelled to Hassloch in Germany to find out more about the energy savings offered by KBA's new air management system
Knight's knowledge: Jack Knight is director international technical
service for INX International Ink Co. In his latest contribution for CanTech International he looks at the area of  UV printing
A vital link: CanTech International correspondent Evert van de Weg talks to Sandvik about its can tooling activities
Counting the cost of counterfeiting: Security and brand protection is one of the biggest concerns for businesses today, and the issue has been rising up the business agenda over the last few years. This article looks at
what protection is available for metal packaging
In the zone: In the last issue Andy Pott from Arc Pacific looked at the operation of pin ovens. Here he continues his look at this area with a focus on Internal Bake Ovens (IBO)
Can closure systems: Editorial board member Atit Bhatia takes a look at the can closure systems available to brand owners
History in the making: Juergen Seel, vice president of the Wallram Group, discusses the company's offerings in the area of tooling
Supplier Profiles 2011: The CanTech International Supplier Profile is the definitive reference guide to equipment, materials, tools and services for the metal packaging industry
Access this issue
Back issues of CanTech International are restricted to paid subscribers. Please login or subscribe to see this exclusive content!
Related content