December 2011/January 2012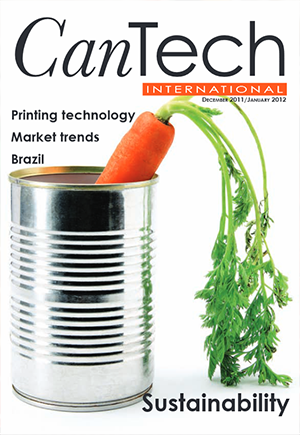 Regulars:
New Products: New cans and ends in the market place
Equipment News: The latest machinery and equipment for the can line
Candid: Joanne York, managing director, York Engineering Solutions
Features:
The perfect package: Alec Peachey speaks to Patrick Geffers,
sales manager graphics, Stork Prints Austria, about the company's Direct Laser Engraving (DLE) process
The thrill of Brazil: Renault de Freitas Castro, economist and CEO of
Abralatas (the Brazilian can makers association), takes an in-depth look at the country's expanding beverage can market
Diversification is key: CanTech International corespondent Evert van
de Weg talks to Rexam about its range of beverage cans and the markets they serve
Clarke's can corner: Stephen Clarke is the customer technical service
(CTS) manager for Western Europe at Ball Packaging Europe. In his latest
contribution for CanTech International, he discusses beverage end manufacturing
Differentiating pin oven technology: John Zea, president of
International Thermal Systems, examines the pin oven technology available
to can makers
Knight's knowledge: Jack Knight is director international technical service for INX International Ink Co. In his latest article, he discusses the UV process and answers questions from CanTech International readers
Challenges in starting up a new beverage company: In this article, Marty Brown, chief operating officer at Mr Pink Collections goes through the process involved in bringing a new canned beverage to market
An increasing appetite: James Peterson, vice president of marketing and
corporate affairs for Ball Corporation and a member of the CanTech International editorial board, will provide a regular update on the Americas. In his first contribution, he looks at the growth of the can market in Brazil
Infinitely recyclable: The Can Manufacturers Institute (CMI) is the trade
association of the metal and composite can manufacturing industry and its suppliers in the United States. Megan Daum is the director of sustainability at CMI. In this article, she discusses sustainability and how cans can play
a part in reducing food waste
Access this issue
Back issues of CanTech International are restricted to paid subscribers. Please login or subscribe to see this exclusive content!
Related content