February 2012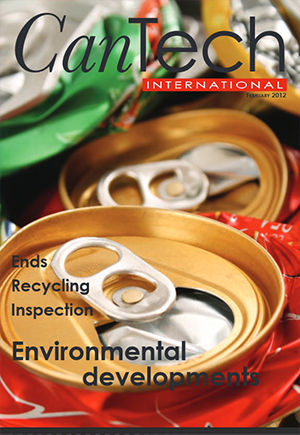 Regulars:
New Products: New cans and ends in the market place
Equipment News: The latest machinery and equipment for the can line
Candid: Chris McKenzie, sales manager, Carnaud Metalbox Engineering
Features:
Facing the pressure: Wilco AG offers leak testers to meet the demanding requirements of different industries. CanTech International correspondent Evert van de Weg spoke to the company's co-founder Martin Lehmann
Sustainable packaging design: Cradle to Cradle was founded by Professor Dr Michael Braungart and the American architect William McDonough. In this article, Dr Braungart discusses the concept
Total tinplate: Dr Ulrich Roeske, chairman of the executive board of Rasselstein, Germany's only tinplate manufacturer, discusses the reasons why recycling rates are so high in the country
Understanding and improving line throughput: Shenandoah Automation is an automation and operations consulting firm based in Jackson, Tennessee, US. David Sterrett, the company's vice president, looks at how can makers can improve line efficiency by carrying out some simple steps
Bearing up well: Bear Products – a specialist in rubber, neoprene and urethane spare parts for the can making industry – celebrates its 30th anniversary this year. Alec Peachey speaks to the company's president Mary Anne Evo
Knight's knowledge: Jack Knight is director international technical service for INX International Ink Co. In his latest article, he talks about the role of the pressman
Supplying Saigon: During last year's Asia CanTech conference, delegates were invited to take a tour around Crown's plant in Ho Chi Minh City. Alec Peachey reports
Canvironment Week: Editorial board member and senior vice president of Hindustan Tin Works, Atit Bhatia, looks back at Canvironment Week 2011, an environmental campaign designed to promote the sustainability of metal packaging
Producing quality cans: CanTech International is once again running a series of technical articles based on the Technical Forum at last year's Asia CanTech conference. Jonathan Ellaby, vice president international operations at INX International Ink Co, looks at wet-on-wet printing
Maintaining efficiency: The network of companies, known as Haar group, is organised around the founding company Alfons Haar Maschinenbau in Hamburg, Germany. Alec Peachey speaks to the company's CEO Thomas Haar
Access this issue
Back issues of CanTech International are restricted to paid subscribers. Please login or subscribe to see this exclusive content!
Related content