March 2012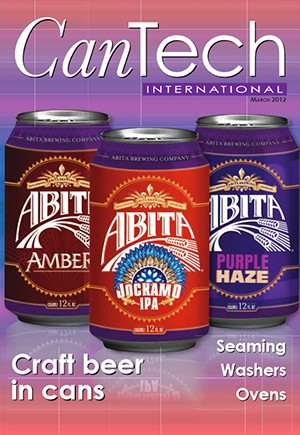 Regulars:
New Products: New cans and ends in the market place
Equipment News: The latest machinery and equipment for the can line
Candid: Anders Linde, secretary general, Metal Packaging Europe
Features:
Metal matters: The Association of European Producers of Steel for Packaging (Apeal) took part in a debate on metal packaging's contribution to a resource-efficient Europe at the European Parliament in Brussels
Cleaning cans: Joe Bohlen, vice president of technology at Cincinnati Industrial Machinery, has more than 30 years experience in can processing. He discusses the can washer technology that is available to can makers
Changing demands: James Peterson, vice president of marketing and corporate affairs for Ball Corporation, discusses new markets and sizes driving can growth in the US
Seamlessly moving forward: Alec Peachey speaks to the commercial manager of Spanish company Talleres Ezquerra Seamers about the latest developments in seaming
Got good beer? Put it in a can!: A look at why more and more craft brewers in the US are switching to aluminium cans
Knight's knowledge: Jack Knight is director international technical service for INX International Ink Co. He is also CanTech International's regular ink specialist. Here he discusses printing on tinplate
Trading metal: Alec Peachey paid a visit to the London Metal Exchange (LME) to find out how metal is traded
Washing and drying: Johan Jonkman, international sales manager at VMI Holland BV, talks to Alec Peachey about advancements in this area
Clarke's can corner: Stephen Clarke, customer technical service manager for Western Europe at Ball Packaging Europe, talks about double seam performance
Getting a grip on handling: CanTech International correspondent Evert van de Weg speaks to Paolo Soliani, sales manager of Clevertech, on the company's impending move into the beverage can market
Maintaining ovens: Thomas Zimmerman, sales and marketing manager at Greenbank Technology, discusses oven maintenance
Access this issue
Back issues of CanTech International are restricted to paid subscribers. Please login or subscribe to see this exclusive content!
Related content