April 2012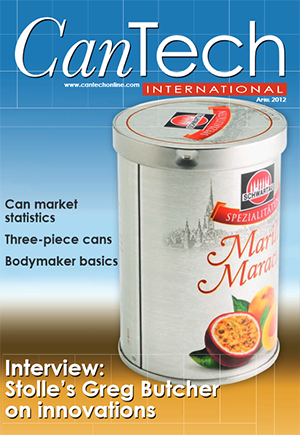 Regulars:
New Products: New cans and ends in the market place
Equipment News: The latest machinery and equipment for the can line
Candid: Alex Grossjohann, vice president, CMC-Kuhnke Worldwide
Features:
Stolle interview: In an exclusive interview Greg Butcher, Stolle's chief operating and technical officer, gives CanTech International his views on the future of can and end making equipment
Machinery: One of Taiwan's leading can making machinery producers is responding to market demands. David Hayes reports
Market statistics: The Can Makers market report contains detailed information about the UK beverage can market. Geoff Courtney, chairman of the Can Makers, highlights why drinks cans continue to be a preferred pack choice
Three-piece cans: Jakob Guyer, chief executive officer at Soudronic Group, discusses the three-piece can making process and looks at the technology available to can makers
Aerosol developments: The Ardagh Group is enhancing its position in the aerosol market. Alec Peachey speaks to CEO Niall Wall about the company's latest acquisition
Ovens: Kevin Gillest (director of technical services) and Mike Calahan (managing director) of US-based Integrated Packaging Solutions discuss the thermal/oven process part of can making
The printing process: Jack Knight from INX International is CanTech International's regular ink specialist. He discusses the printing process
Beverage filling: Evert van de Weg talks to Dutch filler DIS and finds out about the company's plans to install a fifth can filling line
Aerosol production: After producing several thousand sample cans on its Icon V-Drive, Schuler believes it has found aerosol can makers a viable production alternative
Engineering: Adrian Long, global account manager for Carnaud Metalbox Engineering (CmbE), discusses metal forming machine fundamentals
Access this issue
Back issues of CanTech International are restricted to paid subscribers. Please login or subscribe to see this exclusive content!
Related content