May 2012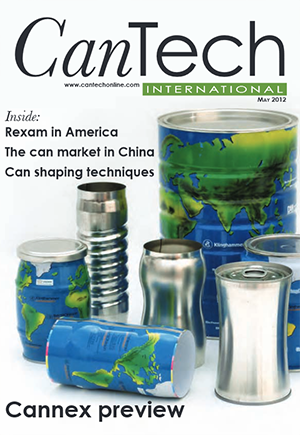 Regulars:
New Products: New cans and ends in the market place
Equipment News: The latest machinery and equipment for the can line
Candid: Mark Taylor, managing director, Heat Food and Drink
Features:
US update: Andre Balbi and Rich Grimley from Rexam Beverage Can Americas answer questions about the company's activities in the US
Can shaping: Bill Speidell from Belvac Production Machinery discusses the company's range of shaping technology
Cannex 2012: Suppliers from around the world will be showcasing their products and services to can makers at this year's Cannex Asia Pacific. Alec Peachey takes a look at what some of them will be exhibiting
Used and refurbished equipment: Dealers of used and refurbished equipment are continuing to see a strong demand for their equipment
China update: Editorial board member Simon Jennings looks at the can market in China
Can filling lines: Stephen Clarke is the customer technical service for Western Europe at Ball Packaging. In this article he discusses how to improve performance at the can filling stage
IMDA preview: Jack Knight from INX International is CanTech International's regular ink specialist.  He is also president of the International Metal Decorators Association, which holds its annual convention in Illinois, US, from 22-24 May. Here Jack looks ahead to the event
Bisphenol A: In this article, CanTech International gets reaction to the FDA's recent statement about Bisphenol A, a chemical that is used in the lining of some food and drink cans
Manufacturing: David Hayes visited two machinery manufacturers during a recent trip to Taiwan and discovered that demand from can makers in the region is strong
Aluminium bottles: Demand for aluminium bottles is increasing in the US. Editorial board member James Petersen, who works for Ball Corporation, discusses the reasons why
Access this issue
Back issues of CanTech International are restricted to paid subscribers. Please login or subscribe to see this exclusive content!
Related content