May 2013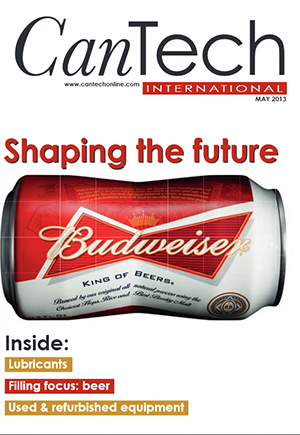 REGULARS
3 Comment
6 World News
32 New Products
New cans and ends in the market place
33 New Equipment
The latest machinery and equipment for the can line
34 Filling Focus
An indepth look at how the international canned beer market
58 Candid
Alexander Mohr, external affairs director at the Association of European Producers of Steel for Packaging (Apeal) explains his role
FEATURES
12 News Focus
Anheuser-Busch this month launches an attempt to reassert the dominance of its
flagship lager Budweiser with an innovative bow-tie shaped can
14 Used & refurbished equipment
Competitive pricing and limited availability of more up-to-date second-hand can making machinery
18 IMDA 2013 preview
Jack Knight from INX International introduces a preview of the International Metal Decorators Association (IMDA) conference
for which he is also president.
21 Lubricants
CanTech International correspondent Evert Van de Weg looks at how Fuchs Lubritech, a leading lubricant producer, is coping with ever changing
legislation
27 Can shaping
Budweiser has announced that Belvac's innovative shaping machinery produced its new bow-tie can, arguably the most innovative introduction to the
market for 30 years. Bill Speidell, strategic initiatives, Belvac Production Machinery reveals the details of the shaping technology behind the Belvac
Vertical Shaper
28 Aerosol update
Success of the British aerosol sector flies the 'Made in Britain' flag says Dr John Morris, chief executive of the British Aerosol
Manufacturers' Association (BAMA)
40 Craft beer update
Russ Phillips updates readers on the canned craft beer market in the US
41 Buyers Guide
Access this issue
Back issues of CanTech International are restricted to paid subscribers. Please login or subscribe to see this exclusive content!
Related content