September/October 2009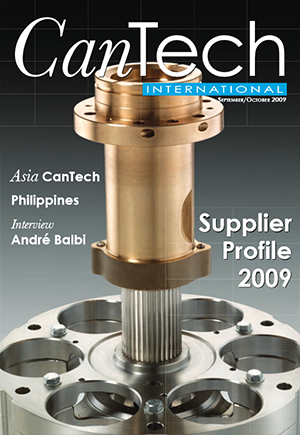 Regulars:
Equipment News: The latest machinery and equipment for the can line
New Products: New cans and ends in the market place
Candid: André Balbi, president and CEO, Rexam Beverage Can Americas tells Suzanne Christiansen about his plans for this vast region
Features:
Asia CanTech 2009
A Major attitude: The chairman of the Can Makers, Vince Major, talks to Alec Peachey about how the UK industry is faring
The importance of VMV: The German metal packaging industry relies on its campaigning organisation, VMV. Evert van der Weg reports
Rasselstein goes full-speed ahead: High strength steel with extra formability gives tinplate producer Rasselstein an edge
Offshore interests: Great China Metal Industry of Taiwan is counting on further profits in mainland China. David Hayes reports
Price level keeps cans on top: David Hayes interviews Henry Tanedo, president of the Tin Can Makers' Association of the Philippines
Supplier Profiles 2009
Access this issue
Back issues of CanTech International are restricted to paid subscribers. Please login or subscribe to see this exclusive content!
Related content