April 2010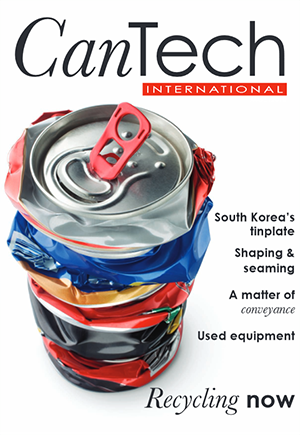 Regulars:
New Products: New cans and ends in the market place
Equipment News: The latest machinery and equipment for the can line
Candid: Rudi Roeslein, CEO, Roeslein & Associates, Inc.
Features:
Food for thought in the US: The canned food market in the US is set for slow but steady growth, according to market research company Mintel
Recycling all the way: Alcoa has expanded its recycling operations in Tennessee, US, as the company aims to help the country edge closer to its commitment of a 75 per cent recycling rate
Letting off seam: Makers of rectangular and oval shaped cans for fish, vegetables and meat are benefiting from a new highspeed seaming system from MCG. Alec Peachey reports
Expanding Klinghammer: Klinghammer has been in business for more than 100 years. Its MD Christof Bürig tells Evert van der Weg why it remains successful
TCC steel tightens up: TCC Steel is responding to increasing demand for tinplate in Asia by offering a wide range of products. David Hayes reports
Moving right along: Conveying and handling firms have survived the downturn by catering to customers' needs. Suzanne Christiansen reports
Making the connection: NSM Magnettechnik of Germany has been moving cans on conveyors for more than 50 years.
Useful trade: Despite the downturn, used can machinery vendors report steady business. Suzanne Christiansen reports
Countdown to Cannex: Can makers and suppliers from around the world will be meeting in Las Vegas for this year's Cannex de las Americas. Alec Peachey takes a look at what to expect
Access this issue
Back issues of CanTech International are restricted to paid subscribers. Please login or subscribe to see this exclusive content!
Related content