May/June 2010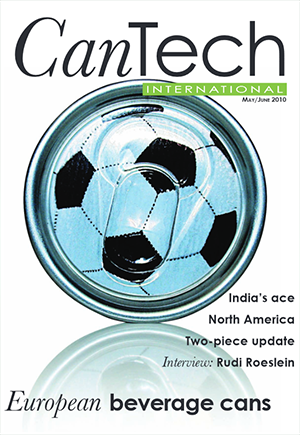 Regulars:
New Products: New cans and ends in the market place
Equipment News: The latest machinery and equipment for the can line
Candid: John McHugh, sales manager, Crabtree of Gateshead (UK)
Features:
Craft works: Crown is working with smaller US brewers to make the switch from glass to aluminium beverage cans
Can do attitude: Educating Americans about canned food will lead to better health, according to Rich Tavoletti, executive director of the Canned Food Alliance
Ball is rolling: Ball Packaging Europe is seeing a renaissance for beverage cans in Europe. Evert van der Weg reports
From the outside in: The trend towards outsourcing maintenance in can making has led to profits for Netherlands company Veldkamp
Roeslein's in no rush: Roeslein & Associates celebrates 20 years this year. Rudi Roeslein, its CEO, reflects on the ups and downs of can line developments over the decades
Ace high: India's Ace Cans Manufacturing is growing with a new EOE factory. David Hayes reports
The Cannex conundrum: The latest exhibition within the metal packaging industry took place last month, attracting exhibitors and visitors from across the world. Alec Peachey reports from Las Vegas
Access this issue
Back issues of CanTech International are restricted to paid subscribers. Please login or subscribe to see this exclusive content!
Related content