July/August 2010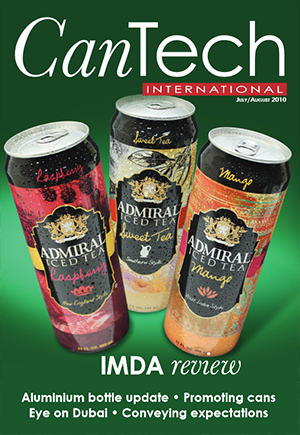 Regulars:
Equipment News: The latest machinery and equipment for the can line
New Products: New cans and ends in the market place
Candid: Rick Clendenning, president and CEO, INX International Ink
Features:
Moving into the mainstream: A move into the mainstream could be the way forward for aluminium bottles, according to Bill Speidell from Belvac. Alec Peachey reports
Getting a focus on metal deco: The IMDA's annual meeting in Bloomingdale, Illinois, is going from strength to strength in the association's 76th year. Suzanne Christiansen reports
Filled with surprise: Cans can be filled with so much more than beans. A look at Promocan of the UK by Suzanne Christiansen
From humble beginnings: German can making company Blechwarenfabrik Limburg has survived every thing from World War II bombing to the latest economic downturn. Evert van der Weg travelled to Stiftstrasse to find out more
Demand in Dubai: Aluminium can sales have regained strength in the Middle East. David Hayes reports on Can-Pack's plans for the region
Get your lines straight: Evert van de Weg takes a look at what the Dutch company Verhoeven Oss BV is offering can makers and discovers there is a lot more to conveying than meets the eye
Access this issue
Back issues of CanTech International are restricted to paid subscribers. Please login or subscribe to see this exclusive content!
Related content