September/October 2010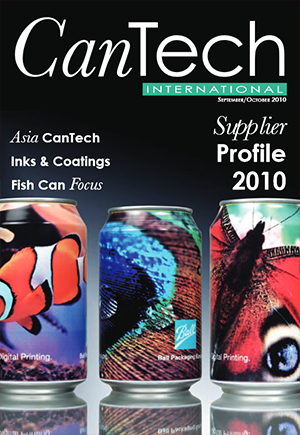 Regulars:
Equipment News: The latest machinery and equipment for the can line
New Products: New cans and ends in the market place
Candid: Gregor Spengler, secretary general, European Tube Manufacturers Association
Features:
Asia CanTech 2010 Preview: What's coming up at the conference and meeting point for can makers and fillers in Asia Pacific
No drain, no pain: Impress has been working with the UK's leading canned fish brand on a new development which will help improve can convenience for consumers
More than just tooling: Neue Maschinenfabrik is an employee-owned German company that specialises in two-piece can and end tooling. Evert van de Weg spoke to managing director Heiko Fieser
An ink revolution: AkzoNobel is a leading supplier of internal and external coatings and inks for the metal packaging industry. Alec Peachey speaks to Ashok Joshi about the company's key growth markets
A taste of India: India's two-piece can market continues to grow in double-digit figures. David Hayes talks to Naval Pandole of Rexam HTW Beverage Can
Hoffmann, traditional yet modern: Swiss can maker Hoffmann Neopac has recently put more focus on packaging for tobacco. Evert van de Weg discovers the reasons why
A hidden gem: After spending 15 years working for Carnaud Metalbox, the owner of UK based T&G Engineering knows a thing or two about can tooling. Alec Peachey reports
An update on BPA: David Smith, technical manager of the UK's Metal Packaging Manufacturers Association, takes an in-depth look at the issue ofBisphenol A (BPA)
Supplier Profiles 2010
Access this issue
Back issues of CanTech International are restricted to paid subscribers. Please login or subscribe to see this exclusive content!
Related content