November/December 2010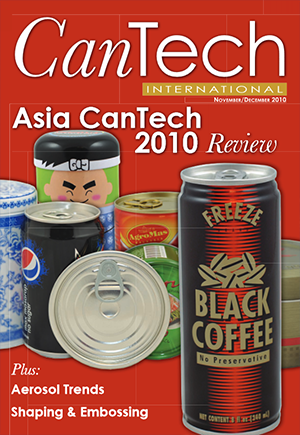 Regulars:
Equipment News: The latest machinery and equipment for the can line
New Products: New cans and ends in the market place
Candid: Jay Gouliard, vice president of global packaging, Unilever
Features:
Asia CanTech 2010 Review: Speakers at Asia CanTech 2010 agreed that metal packaging will be around for many years to come. Alec Peachey reports from Bangkok
Asia CanTech Awards: The best can makers from throughout Asia were honoured at a Gala Awards dinner at Royal Orchid Sheraton Hotel and Towers in Bangkok
From Manchester to Rome: The 27th International Aerosol Congress and 16th Aerosol Exhibition took place in Rome, Italy. Alec Peachey reports from the Italian capital
Getting cans into shape: The use of embossing and shaping in metal packaging has changed dramatically over the years. Dutch company Zaanlandia has been a specialist in shaped and embossed luxury cans for more than 100 years. Evert van de Weg discovers more
A new dimension: Daiwa Can Company, Japan's largest manufacturer of bottle cans, is targeting the market for higher value beverages following a fall in canned beverage consumption earlier this year. David Hayes reports
Roever and out: The head of Schuler's Highspeed division, Markus Roever, talks to Alec Peachey about the company's recent developments within the aerosol sector
An emerging market: Crown is the leading metal beverage can manufacturer in the Middle East and North Africa (MENA) and has been present in the region for almost 30 years. Caroline Archer, marketing director, Crown Bevcan Europe & Middle East speaks to CanTech International
Can innovations: Ball has played a key role in the evolution of the can. Alec Peachey travelled to Germany to find out more about the company's innovations
Access this issue
Back issues of CanTech International are restricted to paid subscribers. Please login or subscribe to see this exclusive content!
Related content