May 2011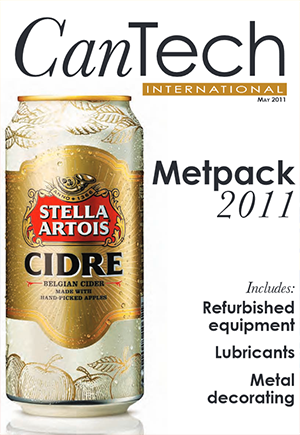 Regulars:
Equipment News: The latest machinery and equipment for the can line
New Products: New cans and ends in the market place
Candid: Steve Gogerty, chairman of Canned Food UK and business development manager, Crown Food UK & Ireland
Features:
Integrating inks: Sun Chemical is in the process of integrating metal decorating inks manufacturer DIC Coatings into its business. Alec Peachey spoke to Iñaki Llona, global product champion – metal decoration, to find out more
Meeting the required standards: There have been many developments in the market of lubricants. Evert van de Weg talks to Pieter van de Schepop, global OEM and key account manager, food division of Fuchs Lubritech
Swapping new for used: Demand for used and refurbished equipment shows no sign of relenting. Alec Peachey talks to three companies who specialise in this area
Knight's knowledge: Jack Knight is director international technical service for INX International Ink Co. In his latest contribution for CanTech International, he looks at the role of a press operator
Metal decorating for the masses: The International Metal Decorators Association is holding its annual convention in Illinois, US, from 24-26 May. Alec Peachey previews the show and talks to outgoing IMDA president Joe Finan
Understanding aluminium: The International Aluminium Institute is the global forum of the world's aluminium producers. Alec Peachey spoke to deputy secretary general Chris Bayliss
Facing the competition: Bev Page provides consultancy services to the can making industry. Here he looks at how cans need to demonstrate their versatility in the face of competition
Keeping an eye on Metpack: The largest metal packaging show in the world takes place between 10-14 May in Essen, Germany. Interviews with key figures involved with the organisation of the show plus a host of other useful information
Using your vision system for trouble shooting: Continuing our series of technical articles, Roger Baker, sales manager metal cans and ends at Pressco takes a closer look at look at using vision systems to their full advantage
A European flavour: Editorial board member and chairman of The Can Makers Geoff Courtney takes a closer look at the UK beverage can market
Access this issue
Back issues of CanTech International are restricted to paid subscribers. Please login or subscribe to see this exclusive content!
Related content