Ball collaborates with Skiwater to unveil its Alumni-tek bottle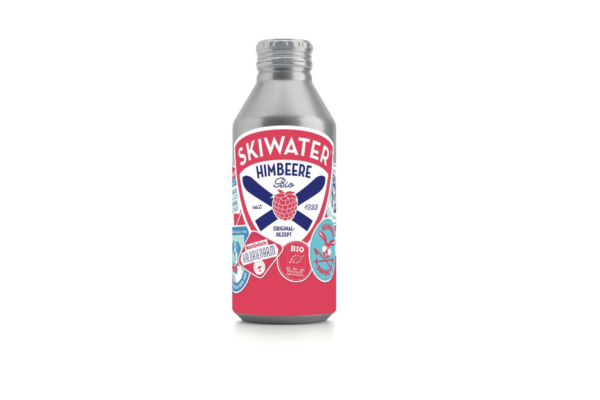 Ball has collaborated with Austrian based Skiwater Beverages to produce its latest innovation, the Alumni-tek bottle. It combines the portability, recyclability and freshness of an aluminium can, with all the benefits of a bottle, filled with sparkling organic Raspberry juice.
The two companies will be showcasing the bottle at Internorga in Hamburg from 17-21 March. Accessible to on the go customers, with a wide mouth and re-sealable lid, the 16 ounce high quality aluminum bottle gives the Skiwater flask stand out packaging and bold graphic design.
Arjen van Zurk, marketing manager at Ball, said: "We're delighted to be presenting our Alumi-tek bottles at this year's Internorga trade fair in collaboration with Skiwater. The Alumi-tek technology showcases the sustainability credentials Ball is extremely proud of, as well as being popular with beer drinkers and sports fans."
"The branding potential of the Alumi-tek bottle demonstrates both design and innovation potential which Skiwater has used to convey their bold branding and brand heritage."
Jitse Rupp, Skiwater founder, added: "We were looking for an innovative, sustainable packaging that would present our sparkling organic Raspberry juice in the right way. So far we had exclusively used glass bottles, but we wanted something more practical for people on the go. We were inspired by the clean lines of a 1920s hiking bottle made of aluminum which is revolutionary for the time. The aluminium bottle has been the trusted companion of mountain enthusiasts for over a century and we wanted to build on that heritage with a packaging that uses this time tested material in an innovative way."
"Our Organic Alpine ingredients and low sugar recipe set us apart from other soft drinks and we wanted our new packaging to do the same. We are proud to be the first European brand to use this innovative design. Our customers are both active and environmentally conscious, so a reclosable lightweight bottle that is infinitely recyclable is a great fit for the Skiwater brand," he concluded.
Related content