Hobgoblin taps into Ardagh's keg technology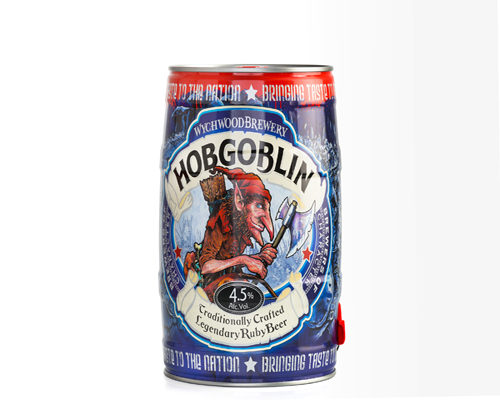 In response to growth in the off trade for the mini keg format, beer brand Hobgoblin is now available in a 5L Ardagh Group beer keg for its Ruby and Gold versions.
The brand's owner, Marston's, chose the Ardagh keg due to a new serving system developed by the brand to provide a smoother 'pull and tap' action.
Other features of the keg are a new venting system, an airtight resealable plug that increases shelf life by several days once the keg is opened, and a large surface area, which is reproduced at Ardagh's specialist keg manufacturing plant in Germany.
Neil Chapman, production site manager at Marston's, said: "The keg is an increasingly important part of our packaging portfolio, and we are absolutely delighted to be working with Ardagh Group to take full advantage of their 5L keg with new tapping system. I'm sure that both existing and new customers will enjoy the experience of consuming their favourite beer from this keg in their homes or on special occasions."
Ardagh's range of kegs includes the Top Keg Plus, available in 3.1 and 5 litre, with an integrated CO2 pressure control system to keep the chilled beer fresh for up to 30 days. Both types of kegs can be filled on existing filling lines.
Marston's uses Ardagh kegs on other brands including Devil's Backbone, Pedigree and Wainwrights.
The kegs with the tapping system will be on display at Ardagh Group's booth at Drinktec in Munich, Germany.
Related content