Ball introduce popular can size in US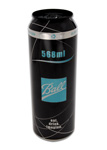 US can maker Ball Corporation has become the first beverage can supplier to manufacture 568ml cans – about 19.2 oz – in North America.
"The 568ml can, often called a royal or imperial pint in the United Kingdom, offers Ball's North American customers a new option to differentiate their brands and appeal to consumers," says Robert Miles, vice president of sales for Ball's metal beverage packaging division, Americas. "Can size has proven to be an important element of branding and Ball now offers more than 20 can sizes worldwide."
The sleek looking 568ml beverage can's unique size – approximately the height of a 24oz can and the diameter of a 16oz can – provides beverage makers with valuable on-the-shelf differentiation and is ideal for energy drinks, teas, alcoholic beverages and other premium products.
As with all Ball aluminium beverage cans and aluminium bottles, the 568ml can contains the highest percent of recycled content on average of any beverage substrate, chills quickly, is stackable and 100% recyclable.
Ball Corporation is a supplier of high quality packaging for beverage, food and household products customers, and of aerospace and other technologies and services, primarily for the US government.
Related content