New easy-open cans from Princes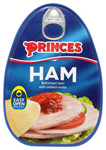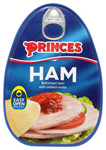 Princes, a brand leader in canned ham, has launched an innovative new packaging format to improve ease of opening for consumers.
From January, consumers purchasing pear-shaped canned meat products within the Princes portfolio will benefit from a new ring pull opening device and aluminium packaging.
The ring pull aluminium cans are being launched in the ham category to replace the traditional key opening following extensive research into consumer behaviour. The new format, which has been test marketed in Europe and the US, is designed to be much quicker and convenient for consumers whilst remaining fully recyclable.
The ambient ham category has steadily grown over the last two years, with both round and pear shaped products enjoying success with consumers.
Neil Brownbill, marketing director for Princes, said: "The practicality factor of products has grown in importance with consumers' so we're improving the functionality of our product and clearly communicating it on-pack in order to drive sales. As brand leader in the category, it's important for us to continue to innovate to provide tasty and convenient food for existing and potential new consumers."
The new aluminium ring-pull range will include: 325g pear shaped; Princes Cured Ham; Princes Lean Deli Ham; 454g pear shaped; Princes Standard Ham; Princes Premium Cured Ham.
Related content