Rexam launches Europe's first 75cl can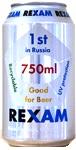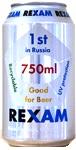 Leading can maker Rexam has announced that it will make Europe's first 75cl can, which was launched onto the Russian and Eastern European markets at the end of 2011.
The can, which will be made in Rexam's Naro-Fominsk plant in Russia, is mainly designed for the beer market, although it is also suitable for other drinks varieties.  Rexam has worked in close partnership with Baltika Breweries, one of its key customers, to initiate and bring this innovation to the market.
Craig Jones, general director for Rexam Russia, said: "The 75cl can is the next logical step for beverage cans in Russia. We first introduced the 33cl can in Russia in 1998 and since then a majority of beers have moved to 50cl packaging following a demand for a larger size beer packaging. In 2007 we launched the first one litre can and beer producers are now seeing a demand for something in between. The 75cl can will give our customers another opportunity to stand out from their competitors."
Vadim Smolenkin, new product development manager at Baltika Breweries, added: "Baltika always tries to offer innovative solutions to its consumers. Therefore, we were the first to test and offer to our consumers in conjunction with Rexam the idea of this innovative format. The chance of using a 75cl can will allow those who buy our product to enjoy the taste of freshly brewed beer for longer."
The aluminium can will be made using Rexam's DWI (Drawn Wall Ironed) technology and will be 100% and infinitely recyclable without loss of quality. A majority of Rexam's innovative printing and design techniques will be available on the can, giving customers the opportunity to develop and redesign their brands for the new size.
Related content