LME volumes surge to new record in 2011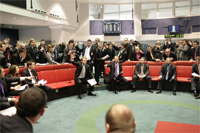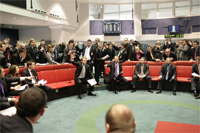 The London Metal Exchange (LME) announced new records for volume and value of trading in 2011, strengthening its position as the world's premier metals exchange.
A number of purchasing managers in canning use LME-based prices and a large number use the LME for hedging their metals price risk.
Total trading in 2011 rose 21.9% on 2010 reaching 146.6 million lots (120.3 million in 2010), the equivalent of 3.5 billion tonnes of material. The notional value of all contracts traded surged 32.8% to $15.4 trillion (2010: $11.6 trillion).
"With a $15.4 trillion notional turnover on the Exchange, and 80% of the market share in global metal futures transactions, the LME maintains its leading position in the global metals market," says Martin Abbott, LME chief executive. "Our new contracts are also performing well as we see industry demand for risk management solutions increase."
Among the established contracts LME aluminium, LME copper and LME zinc were the three largest contracts by volume with 62.8 million (2010: 50.1 million), 37.9 million (2010: 33.1 million) and 23.0 million (2010: 18.8 million) lots traded respectively. LME lead had the highest growth rate with a 40% increase, while aluminium trading rose by 25.5% year-on-year. Market open interest also reached record levels in December at 2.9 million lots.
Outright volume on three-month contracts traded electronically during Asian trading hours (pre-7am) also rose by 33% year-on-year, accounting for 14% of three-month outright trading on LMEselect in 2011. This surge in volume during Asian trading hours has been facilitated by the LME's new office in Singapore.
LME-approved warehouses also had an active year with 28% more stock deliveries year-on-year. A total of 6.16 million tonnes of stock turned over in 2011, with 3.59 million tonnes delivered in and 2.57 million tonnes delivered out.
The London Metal Exchange is the world's premier base metals market. It aims to set the global standard for price risk management in metals and provide tools including futures and options contracts for aluminium, copper, tin, nickel, zinc, lead, aluminium alloy and NASAAC, steel billet and the minor metals – cobalt and molybdenum. In 2010, 120.3 million lots were traded at the LME, while the total value of trading on the Exchange was $11.63 trillion. At the close of the year 5.7m tonnes of material were held on LME warrant in 709 storage facilities across 39 locations internationally.
Related content