Orbit closure offers easier opening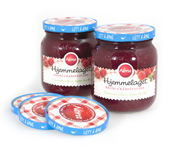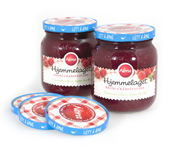 Stabburet, a leading Norwegian manufacturer of jams and ready meals, is the latest company to use Crown Food Europe's Orbit closure on its products.
The company is relaunching its Nora's homemade jam using the closures from Crown Food Europe – Cans and Closures, a business unit of Crown Holdings.
"Research shows there is a real need for easy-to-open packaging," says Halvor Dahl, purchaser – packaging, Stabburet. "For example, a recent study by research group Opinion suggests that as many as two-thirds of Norwegian women struggle to open glass jars. For a long time, we have been committed to enhancing the consumer experience and improving the convenience of our products. The Orbit closure is the ideal solution to this long-standing challenge and makes it easier than ever for consumers to enjoy our jams and preserves."
The closure, which has already been honoured with numerous awards, consists of two parts: a central panel that is vacuum sealed to the jar and an outer ring that acts as the opening and re-closing device. Its design significantly reduces the torque required to remove the closure. This makes it twice as easy to open compared to standard twist closures, significantly enhancing convenience for consumers of all ages.
Crown's experienced technical support team worked closely with Stabburet from concept to final implementation of the new packaging.
Stabburet is communicating the convenience and openability of the closure to consumers in several ways, including a national television campaign and on pack messaging.
"Stabburet has several well-established and popular brands in Norway, but maintaining its customer base in a competitive market requires ongoing innovation," adds Jason Hegarty, new product and marketing manager, Crown Closures Europe. "The openability of the Orbit closure offers a powerful way for Stabburet to add value to its packaging and strengthen brand loyalty with consumers of all ages."
Currently available in both 63mm and 70mm diameters, the Orbit closure can be integrated into packaging without making significant changes to existing capping equipment. Brand owners can also keep the same glass finish used with standard twist closures, minimising changeover costs.
Related content