HAK turns to Orbit for easier opening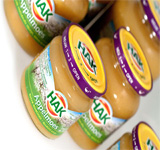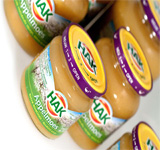 HAK, a producer of preserved fruits and vegetables in the Netherlands, has incorporated Crown's Orbit closure on its products.
The closure, which is produced by Crown Food Europe – Cans and Closures, is being used on the firm's range of apple compote and mousse products.
The Orbit closure is designed in two parts. A central panel is sealed to the jar by vacuum and an outer ring is screwed in place to provide protection while also acting as the opening and closing device. The design reduces the force required to remove the closure as it eliminates friction between glass finish and the seal.
"We needed packaging that would stand out on supermarket shelves and strengthen our image as an innovator," says Michiel Van Ginkel, managing director at HAK. "The Orbit closure actually goes one step beyond that and serves as a real breakthrough in the preserved fruits and vegetables sector. When we surveyed our customers, we received a positive response to the new closure, because they saw the clear consumer benefits versus the current standard twist cap."
The Orbit closure is currently available in 63mm and 70mm diameters. Development of an 82mm size is underway and is expected to launch this year.
Related content