Sacmi Metal Day explores latest metal cap trends and technologies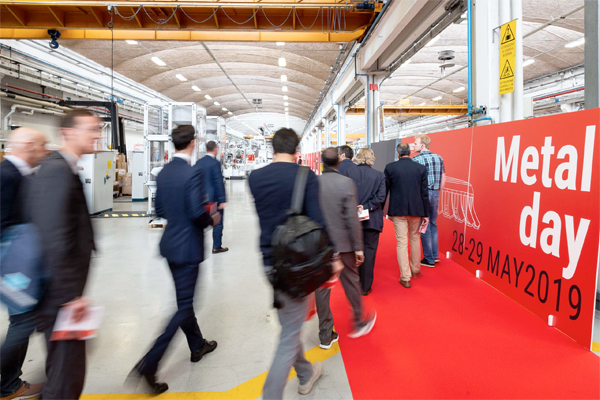 Sacmi Imola recently hosted its Metal Day 2019 – a two-day event that brought together over 160 international customers from 29 countries.
The event explored metal cap/packaging technology, trends and prospects, complete Sacmi lines for Ring-Pull and MASC Caps and new digital services for product personalisation, assistance, and preventive maintenance.
It offered an opportunity to bring everyone up to speed on market trends affecting a global industry now worth €800 billion, an industry that packages 300,000 products every second.
The event was opened by the president of Sacmi Imola, Paolo Mongardi, who gave the audience an overview of the group's businesses and performance as it prepares to celebrate its first centenary.
Key topics during the first half of the morning included industry trends and prospects, sustainability and the circular economy, with talks being given by key European metal packaging representatives.
"The future of packaging and environmental sustainability are indissolubly intertwined", said the speakers. Indeed, it's a topic that will be crucial in both the medium term – with a potential window of opportunity for the metal industry as public awareness and standards focus on plastics – and the long term, also in light of new consumption patterns (smaller sizes and portions) and global social-economic changes (ageing population).
Such factors involve the entire metal packaging value chain, as the speakers scheduled for the second half of the morning clearly emphasised.
Visitors were then given a tour of the plant, which included two new Sacmi products for 2019:  a complete Ring-Pull cap manufacturing line, and the alu cap line.
Sacmi also gave visitors a sneak preview of the new DecoCap360-3D (inspection of top, bottom and decorated walls) and LuggedCap360-3D (internal, curl, lug and side wall inspection) for twist-off caps. Both these solutions share advanced algorithms that allow for perfect 2D reconstruction of the image acquired in 3D.
All-new for 2019 is Eclipsim Coat, the painted metallic sheet inspection unit used in a variety of product fields on which Sacmi has installed a powerful processor and a high performance graphics card to achieve inspection rates of up to 6,000 sheets/hour.
The second day focussed on a range of Sacmi technologies and services, from the new Sacmi SPACE portal – which integrates on-line assistance, spare parts and training on a single digital platform – to the innovative manufacturing support services provided by the Sacmi Customer Service Division. Digitalisation of production and processes was also illustrated, with a focus on ground-breaking metallic sheet/cap digital printing solutions and the new Industry 4.0-oriented plant re-engineering services that enjoy the skilled support of the Sacmi Innovation Lab.
Related content