Skin4Can gives peace of mind for can hygiene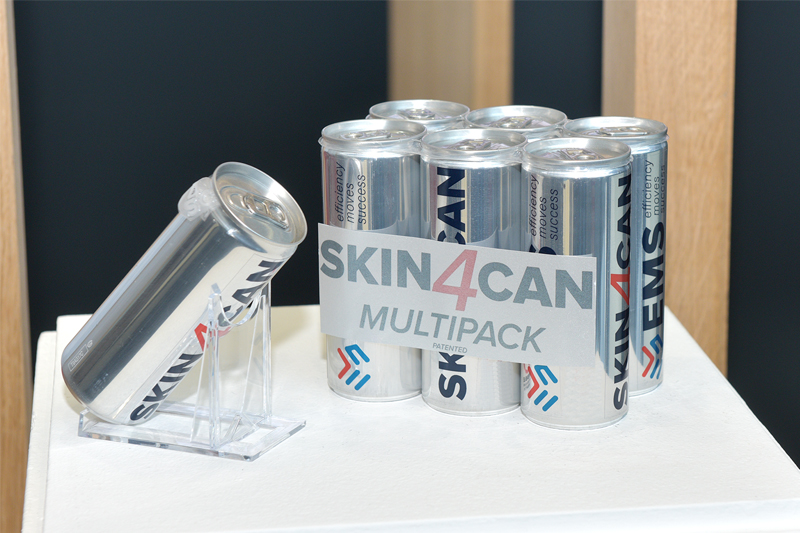 EMS group has introduced its new protective coating for cans which guarantees that the whole surface of the container remains sealed for the full shelf life of the product. It also overcomes issues such as contamination, technical compatibility and aesthetics. Skin4Can was presented by EMS Group at Brau Beviale 2019.
Skin4Can is a polymer coating based on an innovative application system distributed by the group from Emilia Romagna. It is a transparent film, certified suitable for contact with food, that sticks like an invisible skin to all the projections-recesses of the container without using glue. By sealing the whole lid and without leaving air bubbles, Skin4Can guarantees total protection from dirt and microorganisms and redefines hygiene protection standards.
The patented solution makes it possible to apply the film immediately after the filling/pasteurisation phase without heating the container, creating a vacuum that resists refrigeration, immersion and perforation. Protection is continuous, from the production site to the consumer, so Skin4Can can also act as a seal of guarantee. Economic convenience, stackability and compatibility with vending machines, both hot and cold, are additional advantages. In addition to beverage cans, this solution is also suitable for tinplate containers in the food industries.
With a minimum use of material (0.3-0.6 g/tin can) and 100% recyclable, Skin4Can is an eco-friendly solution whose multipack version can replace secondary packaging. Detachment of the film can be prevented to stop its disposal in the environment. Its clear, crystalline appearance together with its consistency and conformity do not alter the visual aspect of the product it is applied to, giving consumers a perception of protection, hygiene and reliability. This makes Skin4Can an optimal solution, even from a marketing point of view.
"Skin4Can is another example of our commitment to innovation in the development of solutions that tangibly increase the competitiveness of our clients," said sales manager of EMS Group, Paolo Biondi.
The Skin4Can system will be available for EMS Group clients from the second half of 2020.
Related content