Amcor honoured at awards ceremony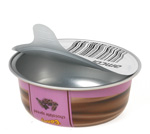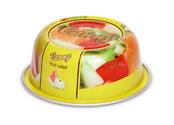 Packaging manufacturer Amcor Flexibles has been recognised by the European Aluminium Foil Association (EAFA) after winning two Alufoil Trophies.
The company received the overall excellence award for its Amcor Canny and the product preservation award for its Amcor Formpack DessiflexTM Plus.
The competition, which is organised by the EAFA, attracted 52 entries across five categories.
The Amcor Canny is a wrinkle-free aluminium thin wall bowl. Primarily aimed at premium or indulgence food markets, it is designed to meet the needs of customer convenience for products that appeal to all ages.
Among the many practical and attractive product features, the bowl is smooth and pleasant to touch. With its easy peelable membrane it makes opening child's play and reduces spillage. The absence of sharp edges removes any risk of injury and makes Amcor Canny ideal for taking the food directly out of the bowl with the spoon or simply with fingers. Empty units are nestable, which can save up to 90% on space during transportation and storage. The bowls can be easily compacted by hand to reduce the volume for disposal and are fully recyclable.
The product received high scores in four of five categories.
"To win an overall excellence Alufoil trophy is a great reward for the Amcor Flexibles' team," says Bertrand Jannon, marketing manager at Amcor Flexibles Europe & Americas. "The initial feedback from both brand owners and consumers demonstrates the ability of Canny to combine a premium product image with improvement to the environmental footprint. This award is for us a confirmation of the iconic character of Canny in metal packaging."
Amcor Formpack DessiflexTM Plus won the second trophy in the category of product preservation for its improved and latest coldform blister, which stood out for its technical expertise and for offering better protection to sensitive tablets.
Related content