Ball to bring out BRE+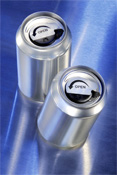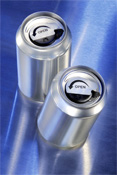 Can maker Ball Packaging Europe is launching the follow up to the Ball Resealable End: BRE+.
The original Ball Resealable End (BRE) came on the market in 2008, making it possible to produce beverage cans that could be resealed after opening, without departing from the conventional cylindrical can shape. The first customers – including Coca-Cola and Hansen (Monster Energy Drink) ­– adopted the new high-tech closure soon after it was launched.
The BRE+ is outwardly identical to the normal BRE but uses a new formula of plastic which is able to withstand higher temperatures. This opens up new applications for resealable cans, which can now be used for beverages that require pasteurization. Ball is currently making the new product on a pilot plant in small, non-commercial quantities, with the commercial market launch planned for the end of 2012.
Ball has developed the BRE production plant in cooperation with Hekuma, one of the leading producers of high-performance automation systems.
The original BRE is exported to Japan, Australia and the US. It is an aluminium can end into which a flat opening mechanism made of plastic is integrated. The can is opened and resealed by a simple rotating movement. The cans retain their characteristic flat end and therefore maintain their stackability and efficient space packing.
Ball produces the Ball Resealable End at a plant belonging to Foboha, the global technology leader in multicomponent injection molds. The pilot line started up in fall 2006 and commercial production has been running since March 2008. The first year of production saw 32 million BREs come off the production line. Today, the plant runs to capacity with some 130 million can ends a year. Including units sold from inventory, Ball sold a total of 140 million BREs last year.
Coca-Cola markets both its classic soft drink Coca-Cola and its Burn, Relentless and Gladiator energy drinks in resealable cans. Hansen and Aimia Foods use the cans for their Monster and No Fear energy drinks.
Related content