Pepsi release Michael Jackson cans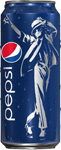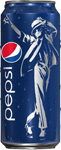 Drinks giant Pepsi is releasing one billion cans featuring images of the late singer Michael Jackson to coincide with the 25th anniversary of his album Bad.
Pepsi has announced an exclusive global partnership with the Estate of Michael Jackson as part of its new "Live for Now" campaign, which Pepsi fans around the world will experience in a variety of ways. These include a retail campaign featuring one billion special edition Michael Jackson Bad 25 Pepsi cans, iconic music, live events and opportunities for fans to access special edition merchandise.
The partnership coincides with the 25th anniversary of Jackson's multi-platinum Bad album and record-breaking tour, around which the Michael Jackson Estate and Sony Music have celebratory projects underway.
Pepsi is featuring iconic silhouette imagery of the King of Pop on the cans.
Related content