Canvironment Week 2012 gets underway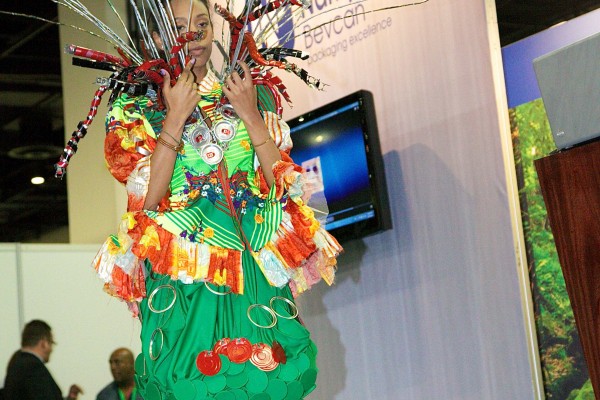 Canvironment Week, an annual environmental campaign that promotes the sustainability of metal packaging, got underway at the Green Expo in South Africa.
Nampak and Collect-a-Can, the African partners of the campaign that is organised by Indian can maker Hindustan Tin Works, kicked off proceedings at the exhibition in Johannesburg.
The focus was to educate South Africans about the environmental benefits and recyclability of cans.
Lifestyle and fashion accessories created by the students of National Institute of Design, Ahmedabad (India) for Canvironment Week 2011 were also displayed at a fashion show.
The South African 'CAN DO!' stand won the 'Most Interactive Exhibitor Award' at the Green Expo. Sustainable topics were put under the spotlight with a conversation about the sustainability of metal packaging on the "CAN DO!" stage.
Go Glamour, a health and beauty show which was run in parallel with the Green Expo, featured a display of Indian garments made from metal cans and scrap in the opening sequence of the fashion show.
Erik Smuts, managing director, Nampak Bevcan, said: "The metal packaging division of Nampak has a long standing commitment to sustainable packaging – in fact, over 72% of all beverage cans produced in South Africa are collected for recycling, which is almost double the rate of any other beverage packaging type. Our involvement with the Green Expo and Canvironment Week for the second year running is confirmation of our ongoing commitment to the environment."
Metal Cans are made from permanent materials, are infinitely recyclable and have a high scrap value which means they are far less likely than any other packaging type to end up as litter in landfills, rivers, oceans and vegetation.
Atit Bhatia, president, Canvironment Week, added: "The activities in South Africa were executed successfully and we look forward to sharing similar success stories from our other international partners around the world."
The organisers of Green Expo aim to use global platforms such as the Canvironment Week to further endorse their commitment to green living.
Nampak Bevcan is the only beverage can manufacturer in sub-Saharan Africa and is the continent's preferred provider of steel beverage cans and aluminium ends.
Related content