Cans of corned beef contained horsemeat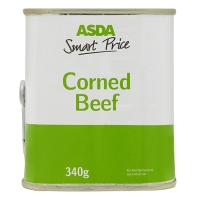 Supermarket chain ASDA has revealed it pulled two canned meat products from the shelves after they were found to be contaminated with horsemeat.
Since the scandal of horsemeat substituted for beef broke in January this year a number of frozen ready meals have been pulled from supermarket shelves.
However, ASDA has now said 'above trace amounts' of horse DNA have been found in its 340g cans of Smart Price corned beef (pictured) and Chosen By You corned beef, also in 340g cans.
Both products were removed from shelves on 8 March and once, this week, third party tests had confirmed the contamination ASDA released the information.
A spokesman for the company said: "We have taken a belt and braces approach, carrying out more than 700 tests so far and moving swiftly to remove any products from our shelves whenever we've had any concerns.
"We're pleased to say we have now completed all the tests we were asked to carry out by the Food Standards Agency, but we have decided to go above and beyond and continue to do the right thing by testing further products, and to update customers as soon as we can."
By Luke Walsh
Related content