American Can RoundUp winner announced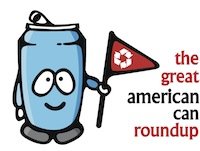 The Great American Can RoundUp Industry Challenge, sponsored by the Can Manufacturers Institute (CMI), has declared Rexam Beverage Can North America as the 2012-2013 competition winner.
This year, the aluminium can industry collected and recycled 178,000 pounds of beverage cans, raising more than $133,600 (£83,000) for local charities across the United States.
Rexam's North American beverage can headquarters office in Chicago recycled more than 55,700 pounds of aluminium cans (671 pounds per employee), which equates to more than $42,000 (£26,000) raised for various local charities.
Ball Corporation's Findlay, Ohio, facility came in second place by recycling 37,756 pounds of cans (104 pounds per employee), followed by Rexam's Whitehouse, Ohio, facility at 8,846 pounds (68 pounds per employee).
Winners are selected from the highest per-capita collection rates based on the number of pounds of aluminium collected per employee at each site.
"We're happy to align with our industry to show the superior value of beverage can recycling," says Rich Grimley, president and CEO, Rexam Beverage Can North America. "This industry contest gives our people a chance to represent our company and the product we make very favourably with our local communities and customers, positioning the beverage can as the best environmental beverage packaging option in the world."
CMI sponsors the Great American Can RoundUp Industry Challenge annually to promote awareness around the environmental benefits of recycling aluminium cans. Participation from American can manufacturers and aluminum suppliers is the backbone of the competitions success. Rexam, Ball Corporation, Crown Holdings, Novelis and Alcoa all engage their facilities around the country to collect and recycle aluminium beverage cans. The plant facilities partner together with their local schools, charities and other organisations to spread the recycling message.
"The CMI recycling challenge underscores our industry's dedication to be leading environmental stewards," adds CMI president, Robert Budway. "The aluminium can's infinite recyclability and high intrinsic value allow our member companies to make significant contributions to local charities across the country. Our industry continues to reinforce to consumers that aluminium can recycling is a great way to do their part for the environment."
CMI also sponsors other competitions under the Great American Can RoundUp umbrella in order to promote and engage recycling within various communities around the country. Raising environmental awareness about the importance of recycling cans is one of CMI's main initiatives. For more information about the Great American Can RoundUp, visit www.cancentral.com/roundup.
Related content