Cast your vote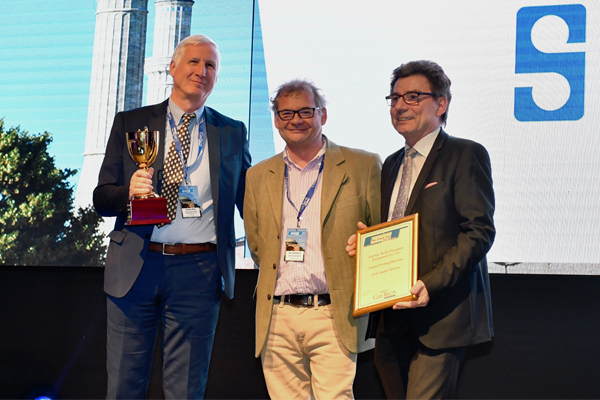 Winner of the previous Global Supplier awards, SLAC with event director, Neil McRitchie
A Happy New Year to you all, I hope you had a lovely break and have been able to recharge the batteries.
2020 starts with a real flourish for us, as we recently launched the 2020 CanTech Global Supplier Awards. Voting for the Awards is open now, and you have until 31 January at 17:00 GMT to vote, after which a shortlist will be drawn and the winners announced at the CanTech the Grand Tour event in New Delhi on 18 February.
Following on from the success of last year's inaugural Supplier Awards, we're delighted with the calibre of applicants. With impressive entries from a number of heavy hitters within the industry, including the likes of Applied Vision, CarnaudMetalbox, SLAC and INX – it promises to be a competitive set of awards. Best of luck to those who have entered.
Elsewhere, our February issue is not too far away. Coincidentally our correspondent, Vladislav Vorotnikov, examines the Iranian can making market. With the impending threat of conflict between the US and Iran, the article examines the on-going impact of tariffs in the region and the consequences of US-imposed restrictions. It seems the Iranian missile attacks on Iraqi bases housing US forces, is enough to satisfy the Iranian's retaliation for the US killing of General Qasem Soleimani for now, so the likelihood of US-enforced restriction on Iran seems the most likely outcome. Vladislav explores the impact, so it's well worth a read.
We're also building up to the ADF aerosol conference in Paris at the end of the month, so be sure to get in touch if you have plans to visit the show.
Enjoy your week
Related content