June 2011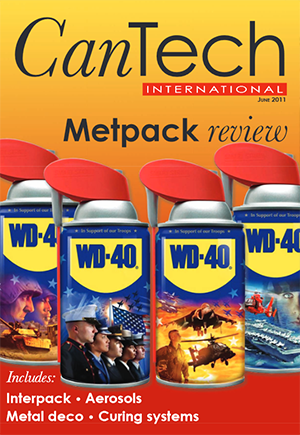 Regulars:
Equipment News: The latest machinery and equipment for the can line
New Products: New cans and ends in the market place
Candid: Greg Frisby, industry manager, Sensory Analytics
Features:
Marvellous Metpack: A record number of visitors attended this year's
Metpack as Messe Essen once again proved to be the central international
meeting place in the metal packaging sector
A contemporary conference: Focusing on Modern Can Technology, the
Metpack conference featured several speakers who discussed further
optimisation of the tinplate surface and its coatings as well as recent technologies in can making. Alec Peachey reports
Discussing metal: There was a unique focus on metal at the world's
largest packaging show in Düsseldorf, Germany, 12-18 May
Knight's knowledge: Jack Knight is director international technical service for INX International Ink Co. In his latest contribution for CanTech International, he discusses colour and process control
The endurance of aerosols: The British Aerosol Manufacturers' Association (BAMA) is celebrating its 50th anniversary this year.
Editorial board member and director of BAMA Sue Rogers looks back over the past 50 years and makes some predictions for the future
Ibea inspects: Now in its 20th year, Ibea has provided inspection systems
to the world's biggest can makers. Alec Peachey spoke to the company's sales engineer Frank Hube
Designer deco: The IMDA's annual meeting in Bloomingdale, Illinois, US,
once again revealed the credentials of metal decorating
The Bodymaker: Continuing our series of technical articles in CanTech
International, Adrian Long, sales manager for CMB Engineering and a member of the editorial board, looks at spoilage reduction in the bodymaker
Coatings are key: There have been a number of developments in the area of curing over the years. CanTech International correspondent Evert van de
Weg takes a closer look at the areas of UV and heating systems
Access this issue
Back issues of CanTech International are restricted to paid subscribers. Please login or subscribe to see this exclusive content!
Related content