June 2012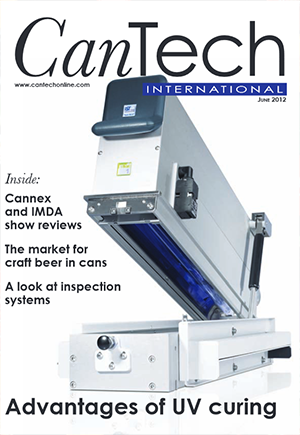 Regulars:
New Products: New cans and ends in the market place
Candid: John Morris, chief executive, British Aerosol Manufacturers' Association
Features:
Curing: Marcus Greenbrook, international sales manager at GEW, discusses the benefits of switching from a
conventional curing system to UV
Coating systems: CanTech International can expert Evert van de Weg talks to Matthias Allar from Sprimag, a leading manufacturer of coating machines for the metal packaging industry
Cannex review: The Chinese can market cannot be ignored. That was the message from suppliers who attended this year's Cannex Asia Pacific in Guangzhou
Craft beer: Russ Phillips, the founder of www.craftcans.com, looks at the growth of the craft beer market in the US
IMDA review: Metal decorating was once again at the top of the agenda at the IMDA's annual meeting in Bloomingdale, Illinois, US
Inspection: Steve Davis, business development manager at Sencon, looks at the pros and cons of dome reform measurement
Inspecting cans: Brian Baird, director of product marketing at Applied Vision, discusses the reasons why its single, self-contained inspection system is helping to revolutionise can inspection
Environment: This case study looks at the reasons why Crown chose Environmental Water Systems (UK) for its water treatment needs at its new state-of-the-art plant in Slovakia
Access this issue
Back issues of CanTech International are restricted to paid subscribers. Please login or subscribe to see this exclusive content!
Related content