September 2012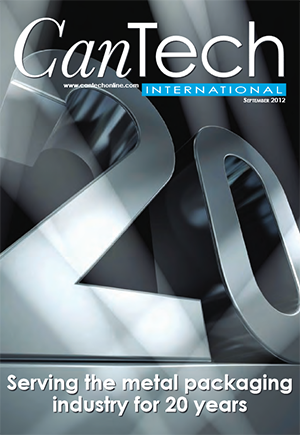 Regulars:
New Products: New cans and ends in the market place
Equipment News: The latest machinery and equipment for the can line
Candid: Robert Budway, president, Can Manufacturers Institute
Features:
China update: Joan Wei, president of Chinese can maker ORG Packaging talks to David Hayes about the company's expansion plans
Consumer campaign: Leading US canned food manufacturers have united to drive research-based messaging aimed at brands, retailers and consumers
Tooling developments: Can expert Evert van de Weg talks to two well-established companies about their can tooling activities
Filling focus: CanTech International is set to include more features, news and information from the filling industry. We kick off proceedings with a look at the canned wine market
Knight's knowledge: This month Jack Knight from INX International returns with a back to basics guide and provides a general description of the lithographic process and equipment
Focus: South Africa: Alex Bouwer, NamPak Bevcan sales and marketing manager, discusses the beverage can market in South Africa
Supplier profiles
Access this issue
Back issues of CanTech International are restricted to paid subscribers. Please login or subscribe to see this exclusive content!
Related content