October 2012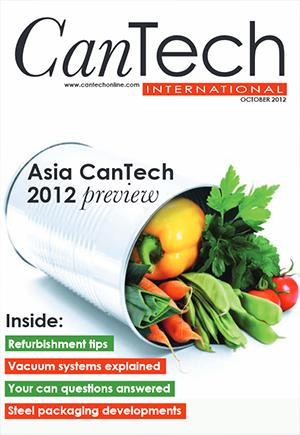 Regulars:
Filling focus: News and information from the filling industry
Candid: Peter Strode, managing director, Intercan
Features:
Conference preview: The technical conference and exhibition for can makers and fillers in the Asia-Pacific Region and their suppliers returns to Bangkok. Alec Peachey finds out what to expect
Steel developments: Nicole Korb, communications manager at ThyssenKrupp Rasselstein, reports on the company's Future Symposium 2012: 2nd Steel Packaging Forum
Knight's Knowledge: Jack Knight from INX International takes a look at what's next in the metal decorating industry
Refurbishment: Chris McKenzie, sales manager, CarnaudMetalbox Engineering, looks at using refurbishment and enhancement to boost productivity and flexibility
Beading, necking & flanging: Evert van de Weg talks to Lanico's Michael Kaufmann and finds out how the company has stayed at the  forefront of innovation
Troubleshooting: In his final article, Stephen Clarke from Ball Packaging Europe answers questions about some of the areas he has covered
Production: Daniel Hilfiker, CEO at Pneumofore, describes various vacuum system solutions and technological trends
Raw materials: Patricia Mobbs, communications manager at the Association of European Producers of Steel for Packaging (Apeal), discusses the value of steel
Used & refurbished equipment: In these tough economic times the used equipment market continues to offer can makers a viable alternative. Alec Peachey talks to two companies who specialise in this area
Asia report: Vietnam's can industry is going through an important growth stage. David Hayes reports
Cupping: Ian Williams, the managing director of TG Can International, talks to CanTech International about the company's new cupping press
Company profile: Publisher Neil McRitchie was invited to Chicago to meet the new owner and management team behind the buyout of OKL Can Line
BCME report: Beverage Can Makers Europe (BCME) examines how the drinks can has changed and developed over the years
Access this issue
Back issues of CanTech International are restricted to paid subscribers. Please login or subscribe to see this exclusive content!
Related content