March 2013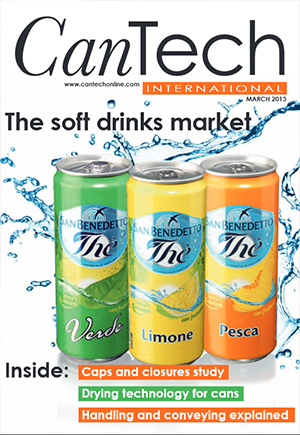 Regulars:
New Products: New cans and ends in the market place
Equipment News: The latest machinery and equipment for the can line
Filling Focus: News and information from the filling industry
Candid: Guido Aufdemkamp, director of communications, European Aluminium Foil Association (EAFA)
Features:
Handling & conveying: Alec Peachey rounds up the latest developments in the area of can handling and conveying
Filling, closing & sterilisation: From single machines to complete processing lines, Evert van de Weg finds out what JBT FoodTech has to offer
Machinery: CanTech International talks can making machinery with Andrew Truelove and Geoff Gargon of CMB Engineering
Drying: A number of factors need to be considered when drying cans. Alec Peachey talks to Peñalver who supply ovens for drying ends and caps
Aerosols: Manufacturers and suppliers got together at the Aerosol and Dispensing Forum (ADF) in Paris, France
Knight's Knowledge: Jack Knight is director international technical service manager for INX International Ink Co. In this article he looks at how to identify the capabilities of your press
Caps & closures: Producers of metal caps and closures are facing competition from alternatives such as plastic. A study carried out by the Freedonia Group takes a closer look at the market
Access this issue
Back issues of CanTech International are restricted to paid subscribers. Please login or subscribe to see this exclusive content!
Related content