March/April 2011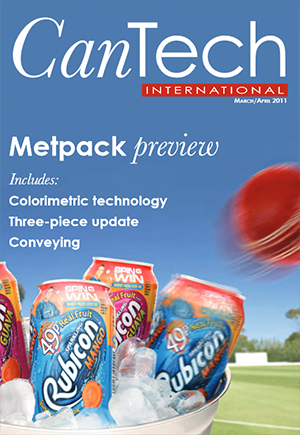 Regulars:
Equipment News: The latest machinery and equipment for the can line
New Products: New cans and ends in the market place
Candid: Evelyne Frauman, quality and environment manager, Association of European Producers of Steel for Packaging (APEAL)
Features:
Knight's knowledge: Jack Knight is senior international technical service manager for INX International Ink Co. He looks at colour control
The complete package: The Soudronic Group's chief operating officer Peter Schreiber talks to CanTech International about the latest developments in the area of three-piece cans. Plus updates from Can Man and INX International
NDH faces the challenge of Iraq: Iraq is a country that, sadly, many people associate with war. Despite obvious dangers NDH has installed the first can making line for the country. The company's chief executive officer Mick Flannery speaks to Alec Peachey about the project
Putting down roots for the future: CanTech International correspondent Evert van de Weg travelled to Belgium to find out more about the latest developments in the area of filling and seaming
A detailed look at metal exposure: Chris McKenzie, international director of Chemtool, continues his look at front-end spoilage control in wet chemicals with a focus on metal exposure
The emergence of Brazil: Editorial board member and industry consultant Simon Jennings takes a closer look at the metal packaging industry in Brazil
Minds on Metpack: The Metpack show in Essen, Germany, is taking place between May 10-14. In this preview we take a look at what exhibitors will be showcasing at the industry's biggest event
A seamless transition: Extensive market research initially showed that PneumaticScaleAngelus had a lot to learn in the market of seamers. The company has since repositioned itself to become one of the leaders in this sector
A matter of conveyance: Conveyance has a direct impact on production efficiency and spoilage rates within the can making process. Alec Peachey finds out more
Back on track: The latest statistics from BCME (Beverage Can Makers Europe) show that despite tough economic conditions last year, there was strong growth in the beverage can market in Europe
Checking colour on cans: Amir Novini, president and CEO of Applied Vision Corporation, looks at colorimetric technology for can makers
Access this issue
Back issues of CanTech International are restricted to paid subscribers. Please login or subscribe to see this exclusive content!
Related content