July/August 2011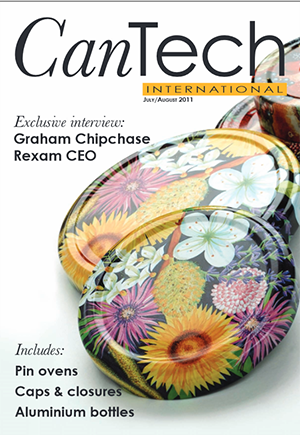 Regulars:
Equipment News: The latest machinery and equipment for the can line
New Products: New cans and ends in the market place
Candid: Steve Cook, chief technical officer, Dayton Systems Group (DSG)
Features:
Knight's knowledge: Jack Knight is director international technical service for INX International Ink Co. In his latest contribution for CanTech International he gives an overview of some of the topics he's tackled over the past year
A view from the top: Graham Chipchase has been chief executive officer at Rexam since January 2010. In an exclusive interview with Alec Peachey he talks about his tenureship and the company's plans for the future
A can renaissance: James Peterson, vice president of marketing and corporate affairs for Ball Corporation and a member of the editorial board, looks at the impact aluminium bottles have had on the market
Question time: CanTech International editor Alec Peachey recently met up with five members of the editorial board at Metpack in Essen, Germany. All of them took time to answer some general questions about the industry
Revolutionising lug cap production: CanTech International correspondent Evert van de Weg talks to a German company about its plans to revolutionise the lug cap market
Cutting costs in the supply chain: If you are looking to cut costs in the metal packaging industry, Tim Fawkes of transport management company 3t Logistics has some suggestions for getting started
The future in a can: In this exclusive white paper, the UK arm of Beverage Can Makers Europe delves into recent developments and looks at the innovations that keep the beverage can at the cutting edge of drinks packaging
Operating ovens: In the latest in our series of technical articles in CanTech International, Andy Pott, vice president of marketing and sales for Arc Pacific, looks at the operation of pin ovens
Improving quality:  KBA-MetalPrint sales manager Bernd Pesch talks to Alec Peachey about the company's offering in the area of metal decorating
Caps with a twist: Gerard Meulman from Tecnocap talks to CanTech International about the growth of the company
Access this issue
Back issues of CanTech International are restricted to paid subscribers. Please login or subscribe to see this exclusive content!
Related content