Bermudan rum launched in cans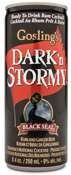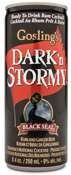 The national drink of Bermuda is coming to America in a stylish new 250ml can.
A blend of Gosling's Black Seal Rum and Gosling's Stormy Ginger Beer, the drink which is known as the Dark 'n Stormy cocktail, can now be enjoyed directly out of a can.
"It's the perfect addition to our family of products," explains Malcolm Gosling, president and CEO of Gosling's Brothers. "This is the perfect Dark 'n Stormy delivered in a slender can with compelling graphics: making it appealing to the younger, trendsetting consumer."
First introduced to the most demanding Dark n' Stormy connoisseurs in the world – Bermudians – the ready-to-drink product was an instant hit.
It has gained rapid popularity in the US and the new canned version is expected to accelerate that trend. The new drink comes in four-packs and is 9% alcohol by volume.
Gosling's plans to launch this new canned product in a few select markets/geographical areas with additional markets being added as the product rolls out toward eventual national distribution.
Related content