ReAl can technology from Ball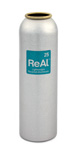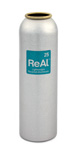 US can maker Ball Corporation has developed a metal technology breakthrough – an extruded aluminium can that contains recycled material.
The new technology enables the use of recycled aluminium in the manufacture of extruded aluminium packaging for aerosols. The resulting new metal alloy exhibits increased strength and allows lightweighting of the container without affecting package integrity. Ball's technology breakthrough will allow the company to lightweight its extruded aluminium aerosol packaging by as much as 10%, with further lightweighting expected in the future.
Currently, almost all extruded aluminium aerosol packaging is made from virgin aluminium "slugs."  These metal discs are impact extruded to produce packaging for aerosol products ranging from body sprays, sun screens, air fresheners and numerous other markets. Ball, the world's largest producer of aluminium slugs and of recyclable aluminium beverage cans, will use aluminium recycled from Ball's global beverage can operations to produce the company's new slugs.
"Our ReAl brand slugs will improve the carbon footprint of increasingly popular extruded aluminium packaging by enabling us to reduce the amount of metal in the package and further enhance the environmental performance of our company," says Raymond Seabrook, the company's chief operating officer, global packaging. "This breakthrough comes after months of collaboration between our global metal technology experts and innovation teams, and brings additional value to the supply chain by adding recycled aluminium from our beverage can plants into our slug manufacturing processes and by lightweighting our extruded aluminium packaging. We are excited to bring this new solution to our customers around the world in the coming months."
Ball will begin producing cans made with ReAl slugs initially in Europe, and has applied for patents on its ReAl packaging.
Related content