A letter to the industry: Farewell reflections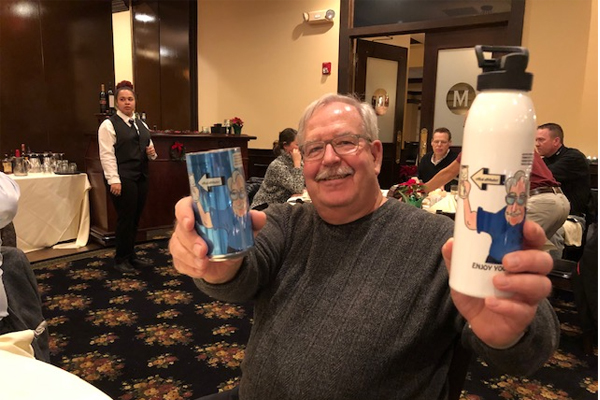 Greg with the INX International team at his retirement party
After a working life in the can making industry, INX International's Greg Stromberg is retiring. Here are his reflections of his life in metal packaging:
After working 48 years in the packaging industry, the last 37 of which were at INX International Ink Company, I have decided to retire at the end of 2018.
I got my first job at Continental Can Company in Milwaukee, Wisconsin, US; it was June 1970. At the time, the can industry was making 12oz, 211×413 soldered side seam beer cans. They printed the metal on flat steel sheets and cut them into body blanks. It's hard to imagine the changes in the 12oz beverage can that have taken place over the years and where the industry is today – cans with significantly less metal, new sizes, smaller diameters, new can/bottle profiles, increased forming and decorating speeds – wow. I can't wait to see what's next, especially by way of digital and 3D printing.
And who'd have expected the number of can/beverage company mergers and acquisitions that have taken place over the years. Or, the disruption of the marketplace when challenged by the growth of craft beers and the new energy/ health beverages.
Over time I have learnt that change is constant, competition is fierce and technology is disruptive. You better be fishing upstream, thinking all of the time and not leaving your guard down. Success is driven by a collaborative, cross-functional effort. Every conversation and problem that occurs is an opportunity to learn and create something new and better. Big ideas and innovation can come from anywhere and anybody.
As I get ready to start the next chapter of my life, I would like to personally thank everyone who has helped me learn and grow along the way.
To my customers, I thank you for entrusting your business to me while I was at INX International. It was an honour to have worked shoulder to shoulder with customers and suppliers, so many of whom were world-class professionals.  I have enjoyed a satisfying and memorable career that would have been unattainable without you. Thank you for your support –  I have been blessed. My family and I are grateful for the opportunity.
What next?
10 years ago, I felt the need to do something with a higher purpose. Something that would allow me the opportunity to give back and help to make the world a better place. As I was grateful for the support received throughout my career from the can industry, I was hoping this venture would also allow me to, in some way, highlight cans.
I remembered a story my dad had told me about my grandfather, who was a dentist during the depression. He said he would help fix people's teeth for free because they couldn't afford to pay for dental work. – he felt it was the right thing to do. I thought this was pretty special. I was also impressed by the late actor Paul Newman, who established 'Newman's Own' brand to generate funds so he could make a difference and help others. Those examples really struck me, and I wanted to do the same.
I had been reading about the global water crisis and how children were dying from complications due to drinking unsafe water. I thought if the children are our future, but they die before they get there – we have no future. Being a grandfather of nine healthy grandchildren, the picture of children dying hit me hard. I really wanted to help change that.
I had an idea, and I called it CannedWater4kids. While at a trade summit in October 2007, I mentioned the concept to Gerald Gifford and Bob Truitt, who was CEO of Crown Cork & Seal at the time. My idea was to start a non-profit organisation, and use the aluminium can as a billboard that could promote the organisation, as well as showcase the benefits of aluminium as a responsible, sustainable container.
The plan was to package drinking water in aluminium cans, sell this water in the North American marketplace and take at least 95 per cent of the money collected from the sales to fund and deliver clean water projects in developing countries. All of this with the goal of making sure all children had access to clean, safe drinking water. They liked the idea and provided easy access to the non-profit's first run of cans.
After 10 years
Fast forward 10 years and I am proud to share that CannedWater4kids has been able to fund and support the drilling of 11 wells in Zambia. We've also helped the University of Wisconsin, Milwaukee's Engineers Without Borders do 10 water projects in the highlands of Guatemala (11th year running), and we have helped a missionary with sand filters in Tanzania.
We have also sent over 3,000,000 cans of clean, safe drinking water as disaster relief through the American Red Cross. At present, we are doing a drinking water project in Kenya for schools and hospitals, with new Nano filter technology that super cleans the drinking water. We just launched a GoFundMe campaign for this, and you can learn about it here. We'd love your support…
Upon my retirement, I plan to focus my time on CannedWater4kids, to help children and to promote a product that I have grown to love, the all-aluminium, infinitely recyclable beverage can.
We've all seen and read lately, how city water pipes underground are old, crumbling and expensive to replace. Their degradation is contaminating our water in virtually every city. I believe the aluminium bottle and can will be a valuable component to the new infrastructure for drinking water.
Get involved
To learn more about CannedWater4kids or how you can get involved, visit:
http://www.cannedwater4kids.com/special/howtohelp.html
If you, your company, or someone you know would like to become a sponsor, here is a link to our sponsorship opportunities.
Thanks to everyone with whom I've had the pleasure of working with throughout my 48 years. I will never forget, as those experiences have shaped my future and where I am today.
Be well. Be memorable.
Greg Stromberg
Related content