Gas analyser installed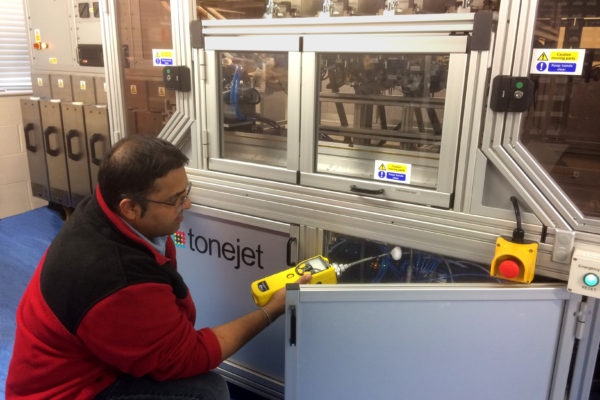 Tonejet has purchased a portable VOC monitor from Ashtead Technology as part of an ongoing programme to ensure the protection of staff, and to assist in conformity with the ATEX Directive as part of the Machinery Directive 2006/42/EEC on CE-Marking.
Technological developments in the print and coatings sectors have delivered a wide variety of advantages including a dramatic reduction in the use of solvents and other volatile organic compounds (VOCs). For example, Tonejet has developed a unique jetting process which electrostatically ejects charged pigment ink particles from a linear array of ejector tips. This no-nozzle printing technology is able to deposit concentrated pigmented inks, achieving a super-thin ink layer of less than 0.5μm.
The ink consists of charged pigment particles in a non-conducting carrier liquid, and since the pigment particles are charged and the carrier oil is insulating, the pigment particles are preferentially jetted which creates a concentrated pigmented jet, which in turn results in a very thin, yet dense, ink layer on the substrate, and utilises 10-20x less ink than traditional inkjet processes. This saves costs, dramatically lowers VOC emissions and enables printing on a wide range of substrates for both flat and curved surfaces such as beverage cans.
Following the printing process, a thin layer of clear varnish is applied to protect the print. Both the print and varnish processes result in the loss of small amounts of vapour, and it is these that Tonejet needed to measure. Ashtead Technology were therefore consulted to determine the best monitoring technology for this application.
Related content