Record attendance for IST METZ at UV DAYS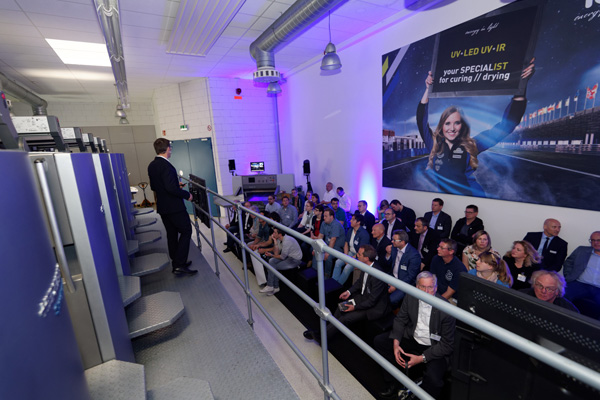 IST METZ has reported record attendance for its in-house exhibition for UV and LED UV technology, UV DAYS 2017.
In total, 45 exhibitors and 920 guests from 33 countries took part in the UV DAYS 2017, breaking its own records. From 15-19 May, the company area of IST METZ GmbH in Nürtingen, Germany was dedicated for the eighth time to UV and LED UV technology.
The event featured print presentations and lectures, company tours, laboratory visits as well as various topics on low migration, LED applications and industrial applications.
Stefan Feil, director of technical marketing at IST METZ, said: "We are very pleased with the consistently positive feedback we received about the UV DAYS. This is the best proof for us to continue the event and to draw attention once again to the possibilities of UV and LED UV."
A special feature this year was the food packaging produced for the event, which was printed with the consideration of low migration. A panel discussion as well as impulse lectures by Frazer Chesterman, co-founder of FM Brooks and InPrint, also took place for the first time. In addition, IST METZ, in cooperation with the VSKE, presented a new guideline for the printing of food-safe packaging UV technology.
For the UV DAYS event, IST METZ came up with the PACKbag, a mixture of packaging and bag, which was printed and refined live during UV DAYS on the sheet-fed offset printing machine, a Heidelberg Speedmaster CD 102-7 LX.
Related content