Tonejet unveils production Cyclone at InPrint 2017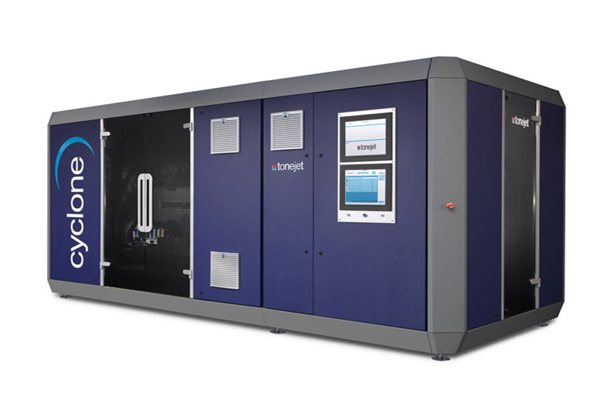 At InPrint 2017, Tonejet unveiled what it claims to be the first industrial production direct-to-can digital printing machine.
The Tonejet Cyclone, with integrated Rockwell Automation iTRAK transport system, was on show throughout InPrint 2017, and illustrated the benefits of direct to shape digital beverage can printing.
Marvin Foreman, sales manager, Tonejet, said: "The Tonejet Cyclone brings together several patented innovations that result in a machine which is considerably more efficient than competing products.
"Whether used as a stand-alone digital printer, or integrated into a can production line, the Cyclone not only significantly reduces production time, it also allows manufacturers to print very small runs of each can design. Manufacturers are able to cost-effectively decorate each can individually if desired, representing incredible opportunities for beverage brands."
According to Tonejet, the Cyclone unites the brand's digital print engine with Rockwell Automation's iTRAK intelligent transport system. Unlike traditional carousel systems, which are limited by the slowest and largest operation, the iTRAK object transport system, combined with Tonejet's passive mandrel technology, allows different processes to each have their own operation time without impacting overall throughput, resulting in a much shorter total processing time, Tonejet says.
The Cyclone also features Tonejet's nozzle-less print heads which operate a patented electrostatic jetting process. Tonejet ink is made of charged pigment particles in a non-conducting carrier fluid, that are jetted away from the print head at high speed when a pulse voltage is applied. The formulation means that the majority of the carrier fluid is left behind, producing a very thin, yet high density pigmented layer of ink on the can.
Related content