Sacmi and Ulysse win over can making multinational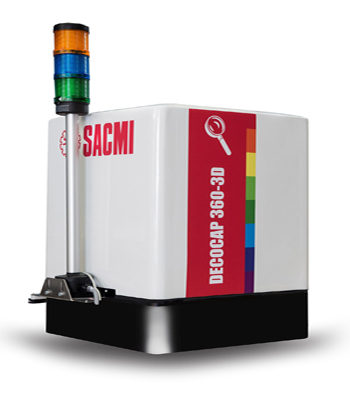 Sacmi Automation & Inspection Systems Division has successfully tested its new decorated cap inspection system, the Decocap 360-3D, at its plant in Asturias, Spain.
According to Sacmi, the Decocap 360-3D operates with the aid of five video cameras, one of which inspects the product from above as the other four inspect the side walls – allowing for the 2D reconstruction of the captured 3D image and thereby eliminating any distortion that might stem from perspective, lid shape or surface reflection.
The solution is designed to inspect caps with a maximum diameter of 110 mm at speeds of up to 1,200 caps per minute. It is flanked by Ulysse, the new Sacmi "all-in-one" vision system that differs from previous units in that the electrical control panel and all relative wiring have been eliminated. With Ulysse, the calculating unit is inserted directly in the image acquisition unit, a re-engineering of the machine that ensures greater compactness and user-friendliness, Sacmi says.
Various configurations are provided, including one for the interior inspection of lugged caps with extensive decorated areas (including curls and lugs). In this case, the technological core of the solution is the exclusive, patented Chrometriq illuminator. This uses a mix of RGB and infrared light to capture two images per millisecond (DoubleShot technology), first with RGB light and then with infrared, thus allowing maximum inspection precision.
Sacmi says that the solution can, like the Decocap, inspect caps with diameters of up to 110 mm at rates of 1200 pieces per minute. For Sacmi, these two orders underscore the soundness of the CVS 360-3D technology developed by the Group's Automation & Inspection Systems Division: a technology that lies at the core of a wide range of packaging applications that include cap, container, label and preform quality control.
Related content