Videojet unveils new 70-micron nozzle for 1860 CIJ printers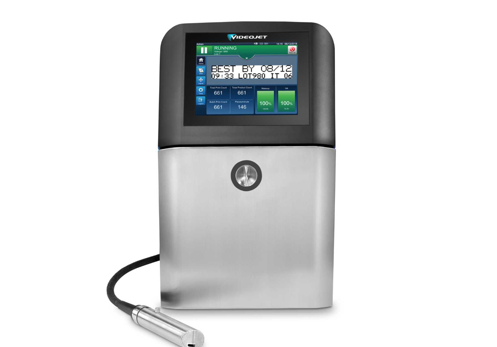 Coding, marking and printing solutions specialist Videojet Technologies has introduced a new 70-micron nozzle for the Videojet 1860 Continuous Inkjet (CIJ) printer. The new nozzle is said to offer a number of improved code benefits to manufacturers.
It provides a higher contrast print through a larger drop volume that helps to create crisper, clearer codes. For manufactures who require the code to remain traceable through the lifetime of the product, the nozzle delivers improved print quality that enables the printed code to stand out on the packaging, and remain visible on the product.
"The new 70-micron nozzle for the Videojet 1860 CIJ printer offers manufacturers a number of extended benefits, including higher contrast codes, enhanced code readability and improved substrate adhesion," comments Anthony Blencowe, global business unit director for Videojet Technologies.
The new 70-micron nozzle is also said to offer improved substrate adhesion, helping to mark codes more clearly. This is especially improved on demanding code-resistant substrates such as film, shrink wrap and laminated pouches.
The new nozzle also utilises technology that produces larger ink drops to better cover the inter-drop spaces, offering improved quality codes. Manufacturers can benefit from enhanced readability of larger or stretched messages with the new 70-micron printhead.
All inks currently available for the 1860 60-micron nozzle are now available for the new 1860 70-micron nozzle. The 1860 CIJ ink range has been specially formulated for optimal performance and maximum uptime, allowing increased ink compatibility that can be matched for most applications. Videojet inks are designed for varying applications and production environments, allowing them to develop with changing production needs.
Anthony Blencowe, global business unit director at Videojet said: "The 70-micron nozzle is a great addition to the 1860 printer solution, delivering performance without surprises."
Related content