Schuler wins red dot award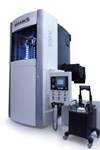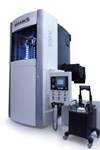 Schuler's vertical bodymaker has been recognised after winning the red dot design award in the industry and crafts category.
The German-based press manufacturer will receive the award for its Icon V-Drive, which is capable of producing up to 250 aerosol cans per minute.
Past winners of the red dot design award include computer producer Apple, watch designer Maurice Lacroix and BMW.
An international jury had to select from a total of 4,515 products submitted by 1,800 companies at a meeting in Essen, Germany.
"The carefully conceived and innovative product design of the Icon V-Drive enabled Schuler to beat off some very stiff competition," says Professor Dr Peter Zec, initiator and CEO of red dot. The packaging machine's housing was designed by the Ulm-based agency designship.
"Customers are not only impressed by the performance and technical specifications of our presses, but increasingly also by their design," adds Schuler's CEO Stefan Klebert. "It is a visible representation of the innovation leadership we have achieved with machines like the Icon V-Drive."
The red dot design award will be presented at a gala event held at Essen's Aalto Theater on 2 July, 2012.
The Icon V-Drive was previously recognised at the Metpack packaging fair in Essen last May, where it received the Innovation Award.
It features extremely low material consumption – as much as 40% less than conventional methods – and can also process 100% recyclable materials, such as aluminium alloys and tinplate.
Related content