CMC-KUHNKE launches the MCI-1000 Monobloc Can Inspection Station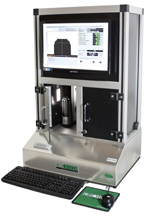 CMC-KUHNKE has launched the MCI-1000 Monobloc Can Inspection Station, which uses optical technology to measure critical parameters of Monobloc Aerosol Cans.
The new equipment is based on the Bottle Can Inspector (BCI-1000) and uses precision optics and high-resolution cameras to take all measurements automatically.
The MCI-1000 can measure diameter, curl outer diameter, curl inner diameter, contact height, can height and curl height. Additional characteristics may be programmed.
Measurement results are shown on a colour display. Results are also available for data transfer either directly into Visionary QC or other plant wide data acquisition software. The Monobloc Can Inspection Gauge may also be used as a stand-alone measurement tool.
Related content